Healthwatch City of London Bulletin 49
This week's bulletin gives the results of our Voices of disabled residents survey and the latest on vaccination centres across the NEL CCG.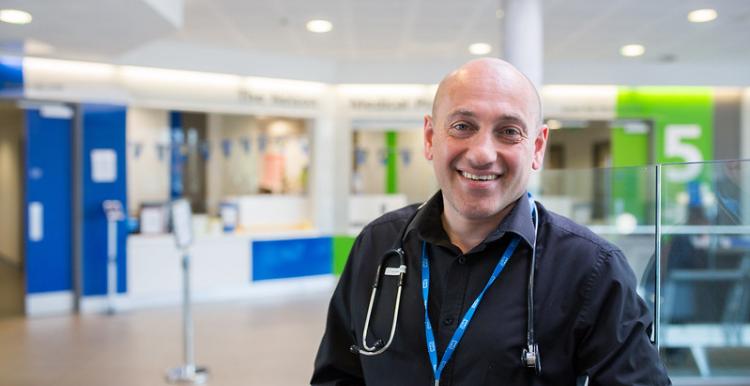 Voices of disabled residents and COVID 19
Earlier in the year we carried out a survey of our local residents who are living with a disability asking them to let us know how COVID 19 had impacted on their lives.  The survey explored a number of areas including access to services, access to information and the vaccination. The survey was carried out across North East London.
From the survey we have learned that 53% of respondents experienced disruption to their health and/or social care.
Those most affected by this had a severe disability (unable to leave home or in need of personal care) those with learning disabilities and those with chronic pain.
Most respondents had experienced online/web based appointments, although these work well for the majority, those with sensory impairments or a language barrier struggle.
At Healthwatch City of London we will carry a full review of the results from this survey and ensure we work with partners to identify solutions.
You can read the results in the attached presentation.
Please let us know if you have any comments by emailing info@healthwatchcityoflondon.org.uk
North East London CCG announce new vaccination sites
The first of 29 new local vaccination sites have started to open this week. With the rest to follow over the coming two weeks.
The sites are spread across all North East London boroughs and the City of London and this map shows where they are.
To prevent hospitalisations rising again this winter, GPs are urging people to get vaccinated now to protect themselves and their loved ones, and to avoid having to self-isolate.
The NHS in north east London has now given over 2.3 million Covid-19 jabs and is opening the new sites to give everyone the chance to get vaccinated easily, safely and in a way that is most convenient for them.
Anyone aged 16 and over can easily find their nearest, high street, walk in vaccination centre for their first or second jab through the 'Grab a Jab' NHS online walk-in finder. There is no need to pre-book and no need to bring a parent or guardian if you are 16 or 17; you can simply walk in and have your jab.
You can also book appointments at a local centre through the National Booking Service. It is currently open to anyone aged 18 or over, and to people within three months of their 18th birthday, but will be open to 16 and 17 year olds too from 27 September.
Booster jabs are now being offered to vulnerable adults to make sure they have a high level of protection as we head into winter, as research suggests the protection provided by vaccines decreases gradually over time. Boosters will offered to:
all adults aged 50 years or over
those living in residential care homes for older adults
frontline health and social care workers, and adult carers
all those aged 16 to 49 with underlying health conditions that put them at higher risk of severe Covid-19
adults who live with immunosuppressed people.
To be eligible, individuals must also have received two doses of the Covid-19 vaccine at least six months ago. The Pfizer vaccine will be given in the booster programme, regardless of which vaccine someone received for their first two doses.
Booster jabs need to be booked and if you are eligible you can go ahead and book your booster now at participating sites on the National Booking Service. People will also be contacted by the NHS or your GP directly and invited to book.
NHS Waiting Times Survey
The COVID-19 pandemic has resulted in many people having their operations, treatment and appointments delayed. A record number of people - more than 5.45 million - are waiting for NHS hospital treatment in England. We want to find out how this is affecting you and what can be done to better support people while they wait.  
All Healthwatches across the North East of London are running a survey to learn about the impact of delays on people, how they are coping while they wait and what support they think would help them better manage their health. 
Please complete the survey below to let us know of your experiences.
https://www.surveymonkey.co.uk/r/HWWaitingtimes
What's in the COVID 19 winter plan?
Last week, the Health and Care Secretary announced the COVID-19 Response: Autumn and Winter Plan in the House of Commons. The Government have released details of their initial plan (Plan A) and backup plan (Plan B) should it be needed. 
What does the plan focus on?
Plan A covers five key areas: 
Building our defences through pharmaceutical interventions 
Identifying and isolating positive cases to limit transmission 
Supporting the NHS and social care services 
Advising people on how to protect themselves and others 
Furthering the international approach: helping vaccinate the world and managing risks at the border. 
What support is there for local areas?
The Government will also continue to support your local areas with: 
The COVID-19 Contain Framework, which clarifies the national support and infrastructure available to local authorities. 
National support for enhanced response in areas with particularly challenging disease situations, including targeted surge testing, vaccination logistical support, logistics support, and national funding to enhance local communications efforts.  
The Education Contingency Framework, which covers schools and childcare. 
As part of the approach, various pieces of legislation will be extended to 24 March 2022, subject to Parliamentary approval.
Healthwatch City of London are looking the support available in the City of London and will keep you updated.
Visit the Government website to read the COVID-19 Response: Autumn and Winter Plan 2021 in full.
https://www.gov.uk/government/publications/covid-19-response-autumn-and-winter-plan-2021/covid-19-response-autumn-and-winter-plan-2021
General Health and Wellbeing
Join the Shoreditch Trust walking group
Every Monday 12 noon – 1pm From 6 September 2021
A group walk is a great way to keep active and to socialise outdoors while improving your health and wellbeing — helping you to feel good, have more energy and reduce stress.
These low-to-moderate intensity walks are perfect for beginners and suitable for all ages. The walks last for an hour and are led by a qualified health-walks leader and first-aider.
Meet at Britannia Leisure Centre front entrance (stone seating area) Pitfield Street, N1 5FT
Arrive 5 minutes before the walk is due to start, and wear shoes that are comfortable for walking. These walks are held in partnership with Shoreditch Trust. Simply contact the Health Walks Activity Coordinator: Shanaz Begum 07783 519 485 shanaz@shoreditchtrust.org.uk who will ensure you are personally greeted by a Walks Leader on the day
Stop smoking this October
This Stoptober Smokefree City & Hackney is asking local smokers to join the thousands of people who will quit smoking in October. 
Smokefree City & Hackney is the local stop smoking service for anyone who lives, works or studies in the City or Hackney (or who is registered with a City or Hackney GP),
The service offers a 12 week stop smoking programme with access to a dedicated stop smoking advisor and stop smoking medication (free to those who don't pay for prescriptions)
With support and medication, the likelihood of quitting is three times higher than for those who try to go it alone.
As soon as you stop smoking, your body starts to heal itself ….
Circulation improves: stop smoking and start moving
Breathing improves: stop smoking and start breathing
Finances improve: stop smoking and start saving (as much as £36 per week)
For more information about Stoptober and Smokefree City & Hackney visit smokefreecityandhackney.org or call the service on 0800 046 9946.
Support the Afghan refugees
Please see below the latest update from the City of London Corporation.
"The government, City of London Corporation and local health services are supporting families from Afghanistan who have been housed temporarily in the City.
We are working alongside statutory and voluntary services, and our local faith communities to make sure families have their immediate and on-going needs met for clothing, medicines, cultural items and children's toys.
We have a specialist Afghan support organisation working with people to provide help, reassurance and support in response to day to day needs. We will also be delivering education and play for children and young people to help them transition to their new life in this country, and English language classes for adults.
NHS health services are working assessing immediate needs, giving vaccinations and registering people with GPs.
We will work with local volunteer groups to help people find their way in the City and beyond, linking them to mosques, libraries, activities and more.
Donating money
Our voluntary sector partners have existing supplies, distribution hubs and networks that allow them to co-ordinate asks across the capital. However, we would encourage financial donations to these organisations to help with their efforts both in the City and across London:
A donation is the most valuable help anyone can give. With your donations, these charities can buy food, medicine, clothes and equipment to support refugees.
Donating items
Refugee charities are often inundated with items they don't currently need, or that are in a bad condition. If you have clothes and other items to donate, please continue to take them to your local charity shop."
Healthwatch City of London events
Annual Public Meeting
In early November we will be holding our Annual Public meeting which is an opportunity or you to find out more from those who deliver our services. We have invited Alwen Williams, Alwen Williams, Group CEO Barts Health NHS Trust and Tracey Fletcher, Homerton University Hospital NHS Foundation Trust to join us at the event to talk about patient engagement and the backlog of NHS services. We are currently arranging a suitable date for all. We'll advertise as soon as possible. We are pleased to announce the next dates for our regular events for 'Listening to City Carers' and our Mental Health and Wellbeing focus groups.
As a result of these events we have enabled a carer to receive their COVID vaccination in their home, access for another resident to the ELFT mental health team, given a voice for carers in the retendering process by the Corporation of London of their home care contract.
Mental Health and Wellbeing focus group
Overview: The event is open to everyone and we will be discussing mental health provision in the City of London, identifying access issues and any gaps in the services provided to you. We will be joined by colleagues from MIND, East London Foundation Trust and City Connections.
Date: Thursday 30th September
Time: 3pm – 4pm
Link to join: https://us06web.zoom.us/j/85285643247?pwd=R2hFYnVmSWZlYWx1UVBBTEtvZkdIdz09
Meeting ID: 852 8564 3247 Passcode: 864990
Listening to City Carers
Overview: An opportunity for Carer's to provide feedback on their experience of Health and Social Care.
Date: Friday 22nd October
Time: 11am – 12noon
Link to join: https://us06web.zoom.us/j/85823840940?pwd=cWYyZ1pWeDkrSXNWanMzWGorVE9yUT09
Meeting ID: 858 2384 0940 Passcode: 855067
Mental Health and Wellbeing focus group
Overview: The event is open to everyone and we will be discussing mental health provision in the City of London, identifying access issues and any gaps in the services provided to you. We will be joined by colleagues from MIND, East London Foundation Trust and City Connections.
Date: Thursday 18th November
Time: 3pm – 4pm
Link to join: https://us06web.zoom.us/j/82400703243?pwd=Q0N4THRkTEVzNzZWbUYzQ0lkc2VtZz09
Meeting ID: 824 0070 3243 Passcode: 390856
Listening to City Carers
Overview: An opportunity for Carer's to provide feedback on their experience of Health and Social Care.
Date: Friday 26th November
Time: 2pm – 3pm
Link to join: https://us06web.zoom.us/j/81897762127?pwd=ZUFsdVMxS2lETmczZy8rdHlDWUl4Zz09
Meeting ID: 818 9776 2127 Passcode: 575751
Old Street Roundabout and impact on access to the Homerton Hospital
We've had numerous contacts from residents concerned about the additional time it now takes to reach Homerton Hospital following the development of the Old Street roundabout. The traffic flow of the roundabout was changed to reduce pollution and support Covid distancing. However, we have had reports that it can now take over an hour to reach Homerton due to the new set up.
We raised this issue at the CoL's Health and Wellbeing Board and will be working closely with partners to identify solutions.
In the coming months we will be carrying out a survey on access to services, this will include access to the Homerton. In the meantime if you've experienced any delays, or would like to voice your concerns please contact us on info@healthwatchcityoflondon.org.uk
Latest Covid-19 statistics for the City of London
The joint City and Hackney Public Health Intelligence Team produce regular statistics on Covid-19 levels and vaccination uptake data in the City. The site is updated regularly and accessible at https://hackney.gov.uk/coronavirus-data   
Keep up to date with the latest advice
HWCoL are constantly updating our advice and information pages. Please make sure you visit them regularly.  https://www.healthwatchcityoflondon.org.uk/advice-and-information
Get in touch with Healthwatch City of London
Visit our website for more information, news and events, have your say about your care, and spread the word about Healthwatch City of London. www.healthwatchcityoflondon.org.uk email: info@healthwatchcityoflondon.org.uk  Tel: 020 3745 9563 Facebook: facebook.com/CoLHealthwatch Twitter: @HealthwatchCoL
Portsoken Health and Community Centre, 14-16 Little Somerset Street, London E1 8AH