Healthwatch City of London Bulletin Number 30
This week's Healthwatch City of London bulletin has the latest update on the vaccination programme across the City and the special walk-in event at John Scott Vaccination Centre for anyone aged over 50 who require their first vaccine.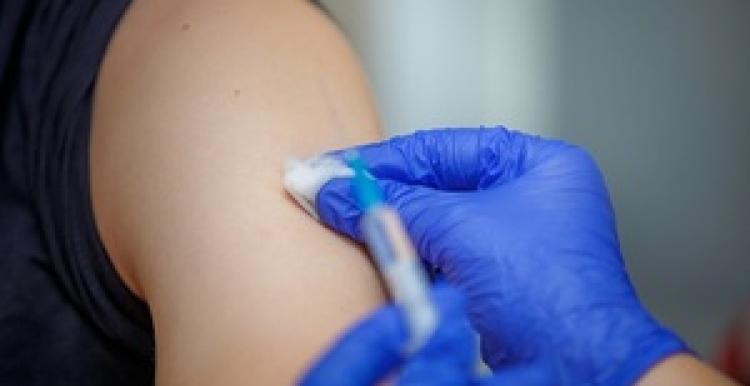 8 April 2021:  Issue 30
Healthwatch City of London bulletin.
Public Board Meeting.
We are sorry to have to cancel  our planned public Board meeting  as the speakers we had secured are unable to attend  as  we are in pre-election period, so rather than go ahead  we are postponing  our  Public Board meeting  until  14th May.   
COVID 19 Vaccination update.
City and Hackney Clinical Commissioning Group continue to vaccinate residents aged 50 and above, those who are clinically or clinically extremely vulnerable and frontline health and social care workers.
Special walk-in event at John Scott Vaccination Centre for anyone aged over 50.
On 11th April  there will be a walk-in vaccination clinic at the John Scott Health Centre, 220 Green Lanes, Woodberry Down N4 2NU between 8:30am and 6pm.
The clinic is for any resident of City and Hackney aged 50 or over who still require their first vaccine only. No appointment is necessary. The clinic will operate on a first come first serve basis, please arrive early if you wish to guarantee vaccination. Residents are asked to bring their NHS number to speed up the vaccination process.
Your NHS number is available using the following link:
www.nhs.uk/nhs-services/online-services/find-nhs-number/
The following link provides a map to help residents find the centre:
Vaccination Centre Flyer John Scott (cityandhackneygpconfederation.org.uk)
Barts Health Information the Covid-19 vaccination hub.
The hospital vaccine hub is likely to close on 15th  April. If you have your second dose booked with Barts after this date the team will contact, you and rearrange your appointment for  next week. This only for applies to those who had their first vaccination at Barts. Please note, the hospital is no longer offering first dose vaccinations.
Booking your second Covid-19 vaccination via  GPs.
If you received the first dose of the vaccination at either the Bocking Street vaccination centre or the John Scott Health Centre in  Hackney or at either Newby Place Health and Wellbeing Centre or Queen Mary's University in Tower Hamlets and did not receive a date for your second vaccination, you are now able to book these directly with your GP practice.
Vaccinations are now available in the City.
The Boots Chemist at 120 Fleet Street will be administering the vaccination. Appointments can be booked via the National Booking System. The pharmacy will be offering the AstraZeneca Vaccine from the 2nd April 2021.
Allergies and the vaccine.
If you have concerns about a known allergy to any of the ingredients of the vaccinations, you should contact your GP, your GP will then refer you to the Allergy Service at the Homerton Hospital who will then discuss and agree vaccinations options. The advice for residents using GP services based in Tower Hamlets is to talk to your GP.
AstraZeneca (Covid-19) vaccine.
The Joint Committee on Vaccination and Immunisation (JCVI) has issued advice to the government on the use of the AstraZeneca coronavirus (COVID-19) vaccine, following reports of extremely rare blood clots in a very small number of people.
Professor Wei Shen Lim, COVID-19 Chair for JCVI, said:
'Safety remains our number one priority. Based on the available data and evidence, JCVI has advised that it is preferable for adults aged under 30 with no underlying conditions to be offered an alternative to the AstraZeneca vaccine where available. This weighs up the risks of being seriously ill or dying from COVID-19 against the extremely small risk of a serious adverse event.
The COVID-19 vaccines have already saved thousands of lives and the benefit for the majority of the population is clear – if you are offered a vaccine, you should take it.'
All those who have received a first dose of the AstraZeneca vaccine should continue to be offered a second dose of the same vaccine, irrespective of age.
Ramadan and the vaccine.
Local GPs are urging observing Muslims not to delay having their Covid-19 vaccine – first or second dose – during the holy month of Ramadan. Click  this link to find out more  in these videos new videos. The safest and most effective way to protect yourself, your family and those most at risk from the virus is by having a vaccine when you are offered it by the NHS.
Changes to lock down rules from April 2021.
Business and activities
From the 12thApril the following activities will be able to re-open:
Non-essential retail premises.
Personal care premises such as hairdressers and nail salons.
Public buildings, including libraries and community centres.
Indoor leisure facilities such as gyms (but only for use by people on their own or in household groups).
Most outdoor attractions and settings including outdoor hospitality venues, zoos, theme parks, and drive-in cinemas.
Self-contained accommodation such as campsites and holiday lets, where indoor facilities are not shared with other households.
Hospitality venues will be allowed to serve people outdoors and there will be no need for customers to order a substantial meal with alcoholic drinks, although customers must order, eat and drink while seated ('table service'). Wider social contact rules will apply in all these settings to prevent indoor mixing between different households.
Events
While funerals can continue with up to 30 mourners, the number of people able to attend weddings, receptions and commemorative events such as wakes will rise to 15.
Shielding advice.
Advice to the clinically extremely vulnerable to shield ceased  from 1st  April, as virus infection rates continue to fall. For more details please read the article on our website.
Remember Face, Space, Hands  and Fresh Air
Upcoming Healthwatch City of London Events.
One of Healthwatch City of London's purposes is to understand the needs, experiences and concerns of people who use health and social care services and to speak out on their behalf. To ensure we hear about and know of your concerns we run regular events. Ideally, we'd like to hold them face to face, but because of the current pandemic we are restricted to Zoom events.
Please see a list of our events below with joining details.
Listening to City Carer's event – Friday 23rd April: An opportunity for Carer's to provide feedback on their experience of Health and Social Care.
Overview: This group is for all unpaid carers who live in the City of London. We would love to hear from young carers too, if you know a young carer please let them know about this forum.
Time: 14:00 – 15:00
Joining details:  
https://zoom.us/j/91663173054?pwd=YUVsTjl3K0MzZkx4SzEzNCtKUzRnQT09 
Meeting ID: 916 6317 3054 Passcode: 994555 Dial in: 0203 481 5240
Future dates for your diary.
Drop-in session – Thursday 29th April 14:00 – 16:00: An opportunity for Residents, Workers and Students to raise issues  about  their experience of  Health and Social care with the staff of HWCoL.
Mental Health and Wellbeing Focus Group – Friday 30th April 15:00 – 16:00 : An opportunity for Residents Workers, Students and Service Providers to discuss mental health provision in the City of London, identifying access issues and any gaps in service provision.
Listening to City Carers Group – Friday 21st May 11:00 – 12:00
Drop-in session – Thursday 27th May 14:00 – 16:00
Voice for disabled residents.
Do you have a health condition that impacts your daily life?
HWCoL are asking residents with disabilities to  take part in our latest survey  on behalf of Healthwatch and the North East London Clinical Commissioning Group.  To complete the  Covid19 questionnaire use the  ink below. Disabled residents have faced more difficulties than most during Covid. Healthwatch and the North East London Clinical Commissioning Group are trying to find out what needs  be done to improve access to services for our disabled residents.  The information you share will be used to provide feedback from the  North East London Clinical Commissioning Group to City and Hackney Integrated Care partnership and the East London Foundation Trust to help shape services locally to meet your needs.
The survey closes on Monday 12th April.
You can access the survey by clicking on this link https://www.surveymonkey.co.uk/r/NEL_disabled
To ensure feedback is obtain from residents with disabilities who would not be able to answer questions themselves and requires someone to complete the survey for them. The following link is provided if for example  you are the parent of a disabled young child or the carer for someone with a severe learning disability or dementia. https://www.surveymonkey.co.uk/r/NEL_carers
Anyone who completes the survey can enter a draw to win a £200 Amazon voucher or one of the three £100 Amazon vouchers.
City Carers Community Event.
An Introduction to Qi Gong, a gentle movement-based exercise, via Zoom on 11th April
The session lasts for one-hour from 11 am.
Booking is required, for the zoom link email to: CityCarersCommunity@gmail.com
Latest Covid-19 statistics for the City of London.
The joint City and Hackney Public Health Intelligence Team produce regular statistics on Covid-19 levels in the City. The site is updated regularly and accessible at. https://hackney.gov.uk/coronavirus-data
Keep up to date with the latest advice.
HWCoL are constantly updating our advice and information pages. Please make sure you visit them regularly.
Get in touch with Healthwatch City of London.
Visit our website for more information, news and events, have your say about your care, and spread the word about Healthwatch City of London.
www.healthwatchcityoflondon.org.uk email: info@healthwatchcityoflondon.org.uk
Tel: 020 3745 9563 Facebook: facebook.com/CoLHealthwatch Twitter: @HealthwatchCoL
Portsoken Health and Community Centre, 14-16 Little Somerset Street, London E1 8AH