Healthwatch City of London Newsletter 26th August 2021
This week's newsletter has information on our coming AGM meeting, a list of all the pharmacies that will be open over the Bank Holiday and details about pop-up vaccination clinics.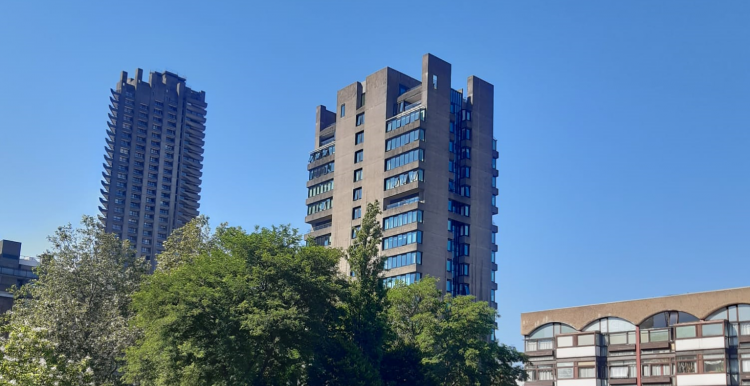 Chat from the chair
Welcome to our August newsletter.  Like many of you, I always feel a little sad as summer (or what passed for it this year) draws to a close and the nights become shorter. This year as we head towards winter many of us are anxious about how the Covid 19 virus will continue to impact upon us. As we see an opening up of normal activities and an expected increase in workers coming back into the City there is that internal conflict between welcoming the benefits that brings and concerns about the  potential impact on health.  It is important to continue to follow the advice of experts and follow the guidance and get vaccinated. For advice on vaccination please contact the local helpline on 0208 356 3111.
Our work continues this Autumn with a series of events on staying healthy including an update on the Vaccination programmes for flu and Covid, more about staying healthy with some talks from Barts Health.
Our AGM will enable us to share with you last year's successes and our plans for the coming year including our seven local priorities developed though our work with you. 
Our APM will give you the chance to explore the work of those who care for us and hear how they will be making sure that you are listened to as the way health and social care is planned and delivered changes over the next year.
We are conscious that some of you are still experiencing difficulties in getting face to face appointments at the Neaman practice and there is a short update on progress below. The team at the Neaman Practice are working hard to make sure they meet your needs and value your feedback.
At our regular quarterly meeting with the Neaman Practice, on 24/08/2021, Dr Chor provided an update on progress addressing the concerns HWCoL raised with them in April 2021. Following NHS advice patients continue to be triaged over the telephone where possible. The Neaman practice has installed a 4G telephone system. Although this is an improvement, they recognise there are still problems, and they are working with the Clinical Commissioning Group to resolve these. Reception staff have received positive practice training to improve patient experience.
We are now back in the City two days and are currently based in Golden Lane, although we cannot hold face to face events yet we can arrange to meet you individually if you want to discuss access to care , have a query or want to raise an issue. Please contact the team on 020 3745 9563. We hope very soon to be able to bring you exciting news  about our new home.
Our work would not be possible without you so we   would really welcome your feedback.    We are keen to know what more you would like to hear about and how you would like to get that information.  Please complete the survey below (it's a very short survey, that won't take very much of your time) Thank you
Healthwatch City of London events
Watch out for information  about our new events this events this Autumn where we will keep you up to date  on the latest information on wat's happening both locally and nationally  in health and social care.   For more information visit our website.
Covid 19 booster and Flu vaccination programme update webinar
Wednesday 15th September 6pm – 7pm
Following the success of our COVID 19 vaccination programme webinar, on 10/3/2021,  we'll be hosting a second giving you the latest on  the COVID 19 booster and flu vaccination programme that will be rolled out from September.
The webinar, will be held on Wednesday 15th September between 6pm – 7pm. We are fortunate enough to be joined by  Dr Sandra Husbands, Director of Public Health, City of London & London Borough of Hackney, Dr Mark Rickets, C&H Chair NEL CCG and Clinical Lead Primary Care - NEL CCG & Health and Care Partnership.
This in an opportunity for you to find out  the latest information on this initiative and ask your questions.  Pleased o spread the word to others who may not get our newsletter.
To join the webinar or to submit a question to the panel please email info@healthwatchcityoflondon.org.uk
Healthwatch City of London Annual General Meeting
Thursday 16th September 2pm – 4pm
We will be holding our Annual General Meeting on Thursday 16th September between 2pm – 4pm in which we'll present our annual report, our annual accounts,  giving an overview of our work from the previous year and outlining our plans for the coming year. We'll be showcasing our top seven local priorities based on feedback from you and our own work. Core to our mission is making sure  your voice is heard in the changing landscape of the delivery of health and social care provision across the City so please do join us .  
Everyone is welcome to attend to meet the Healthwatch City of London team and to ask questions.
To join us please email info@healthwatchcityoflondon.org.uk
Annual Public Meeting
In October we will be holding our Annual Public meeting which is an opportunity or you to find out more from those who deliver our services. We are lining up some exciting speakers and  we'll publish the details as soon as they are confirmed, so watch this space! 
EloPE
In October we will also be welcoming the team from the  East London Cardiovascular Prevention programme to talk about their work across East London and how you can prevent  and improve  your  cardiovascular health. Please see below for more details on their work.
Covid 19 vaccinations
Adults aged 18 or over
If you're aged 18 or over (or will turn 18 within 3 months) you can:
book your COVID-19 vaccination appointments online for an appointment at a vaccination centre or pharmacy
find a walk-in COVID-19 vaccination site to get vaccinated without needing an appointment. You can find locations of these on our website
wait to be contacted by your GP surgery and book your appointments with them
If you cannot book appointments online, you can call 119 free of charge. You can speak to a translator if you need to.
If you have difficulties communicating or hearing, or are a British Sign Language (BSL) user, you can use textphone 18001 119 or the NHS 119 BSL interpreter service.
Children and young people aged 12 to 17
People aged 16 and 17, and children aged 12 to 15 who are eligible, will be contacted by a local NHS service such as a GP surgery to book their vaccination appointments.
Some walk-in COVID-19 vaccination sites are offering the vaccine to people aged 16 and 17. Nearest sites available for walk in vaccinations for 16+ are:
Counting House at Guy's Hospital, Great Maze Pond, London, SE1 9RT. Opening times 8am – 7pm
St Thomas Hospital, Gassiot House at Westminster Bridge Road, London, SE1 7EH. Opening times 8am – 7pm
Please check the NHS website for venues and opening times. Please note that most sites only offer walk in appointments to over 18s.  
Pop up vaccination clinics
You can attend a local vaccination pop-up clinic by walking in or calling 020 8356 3111 to confirm your appointment.
Community groups across the City and Hackney are running pop-up walk-in clinics for those 18+ who need their first dose and those who need their second dose of the Pfizer vaccine.
28 August 2-6pm, Pembury Community Centre, Atkins Square, E8 1FA
29 August 2pm-6pm, The Round Chapel Old School Rooms, Powerscroft Road, E5 0PU
1 September 10am-2pm, Ridley Road Market Ridley Road, E8 2PD
8 September 9am-1pm, The Edge Youth Hub 7 Woodberry Grove, N4 1SN
18 September 11am-3pm, Clissold Park, Near Clissold Park House, N16 9HJ
August bank holiday pharmacy opening times
Bank Holidays can affect the opening hours of local pharmacies. Some pharmacies in the City of London have been asked to open over the Summer Bank Holiday. Please note that Saturday 28th August is not a bank holiday, however there will be some pharmacies who normally open who will be closed on this day.
Click on the link below for a list of pharmacies which will be open this bank holiday.
If you need to visit a different pharmacy over the Bank Holiday weekend you can check their opening hours by searching at www.nhs.uk/service-search/find-a-pharmacy
East London Cardiovascular Disease Prevention (ELoPE) group
The team at Barts Health have approached us to spread the word about ELoPE, the aim of which is to reduce cardiovascular disease risk in our local communities throughout East London.
East London has some of the highest levels of childhood obesity and diabetes in the country and ELoPE, in partnership with the British Heart Foundation  are working  to address a problem reaching epidemic levels.
Working with schools, local businesses and the public they want to ensure a healthier future for our communities. To find out more about their work and improving our cardiovascular health join our joint webinar in October. For more information about their work follow this link.
According to research published today by Cancer Research UK there has been a surge in young adults taking up smoking during the Covid lockdown.
We'd like to know if the pandemic has triggered you to take up or restarting to smoke. We will use the results to obtain the local picture.
Please complete the very short survey below:
https://www.surveymonkey.co.uk/r/smokingyoungadults
City Carers Community Events
The City Carers Community are holding another of their Share and Learn sessions via Zoom. This is being held on Monday 30th August at 11.15am and 8pm. The sessions last for 45 minutes.
 You are welcome to join in. Ask questions and learn tips from city residents who are looking after a family member, friend, or neighbour (other terms are informal/unpaid carers). Topics are determined by residents' questions or help to navigate the NHS/Social care systems for yourself / the person you look after etc. Open to anyone who is looking after someone in the City of London. A friendly group, run by residents voluntarily. For the zoom link email:CityCarersCommunity@gmail.com
Staying Steady Programme
The FREE Staying Steady programme lasts for 24 weeks and takes place in Golden Lane Community Centre on Tuesdays 11am -12pm. It has been designed for those over 55 years old.
The classes focus on building and maintaining strength and balance to prevent you from having a fall. The sessions work on strengthening the legs, developing a flexible back, improving posture and balance, and building more confidence. You will be provided with a resistance band and an exercise manual so you can practice some of the exercises at home.
To attend the programme speak to your GP about getting a referral to MRS Independent Living or you could fill in the self-referral form attached below and email or post it. Classes start on Tuesday 14 September and you can join anytime from then onwards.
For more info please contact Charlotte Seirberg Lead Postural Stability Instructor at MRS Independent Living at charlotte.seirberg@mrsindependentliving.org or leave a message on her mobile 07931557173 or visit their website mrsindependentliving.org/staying-steady
Regular Events
Listening to City Carer's event – Friday 27th August
Overview: An opportunity for Carer's to provide feedback on their experience of Health and Social Care.
Time: 11:00 – 12:00
Joining details:  
https://zoom.us/j/96737224444?pwd=bWE5R3l3OGVvY21tbDRpcURqOXFmdz09   
Meeting ID: 967 3722 4444 Passcode: 364136 Dial in: 0208 080 6591  
Latest Covid-19 statistics for the City of London. 
The joint City and Hackney Public Health Intelligence Team produce regular statistics on Covid-19 levels and vaccination uptake data in the City. The site is updated regularly and accessible at https://hackney.gov.uk/coronavirus-data  
Keep up to date with the latest advice
HWCoL are constantly updating our advice and information pages. Please make sure you visit them regularly.  https://www.healthwatchcityoflondon.org.uk/advice-and-information
Get in touch with Healthwatch City of London
Visit our website for more information, news and events, have your say about your care, and spread the word about Healthwatch City of London. www.healthwatchcityoflondon.org.uk email: info@healthwatchcityoflondon.org.uk  Tel: 020 3745 9563 Facebook: facebook.com/CoLHealthwatch Twitter: @HealthwatchCoL
Portsoken Health and Community Centre, 14-16 Little Somerset Street, London E1 8AH