Healthwatch City of London Bulletin 24
Our bulletin this week gives the latest information on the vaccination programme, upcoming information and engagement events from both ourselves and the CCG and the new Finding Support Services website.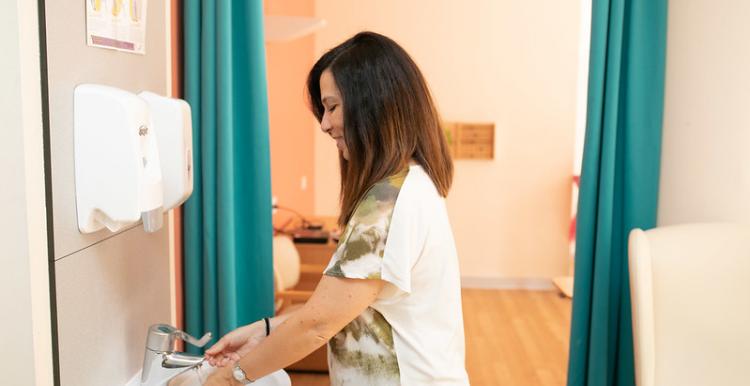 COVID 19 Vaccination update
City and Hackney CCG are now vaccinating priority groups 1 - 4. Over-70s and those who are clinically extremely vulnerable who have not yet been vaccinated, are now being asked to book their vaccine, rather than wait for the NHS to contact them. They should contact their GP, book their appointment online, or call 119 free of charge, anytime between 7am and 11pm seven days a week.
For the remainder of this week Barts are also able to offer the first dose of the vaccine to:
anyone who is over 65 years old (proof will be required)
and separately to anyone who has an underlying health condition (at any age but over 16 years old). Examples of this are diabetes (any type), severe asthma (taking steroids), hypertension linked to a cardiovascular disease, epilepsy, learning difficulties.
The booking number is: 0203 765 8789 or email: Bartshealth.vaccinationsSBH@nhs.net
There is some confusion as to how invitations for vaccinations are being managed. In the City of London there are three ways in which you may be contacted.
The National Programme – The letter for this will come from NHS England.  The NHS England letter will invite you to either book online or call 119 to book an appointment. Vaccinations via NHS England are being administered at the National Vaccination centres, our nearest being the ExCel centre, or from a pharmacy.
The Local Programme – Invitations will be sent via letter or text from your GP practice, these will include a link to a website for you to book your appointment.
Barts Health – As stated above, Barts Health are offering vaccinations to over 65s and the clinically vulnerable, for the remainder of this week. Healthwatch City of London will keep you up to date on this provision. 
If you would prefer to wait for a local appointment then you can, and although it might delay your vaccination appointment this delay should be of very short duration.
Dr Sandra Husbands, Director of Public Health for Hackney and the City, has been answering some of the most common  questions and concerns people have on the coronavirus vaccination and the roll out. She has also produced a YouTube video
We will publish updates, as and when we get them, on our new COVID 19 information pages
Want to know more about the new GP surgery in Aldgate? Or hear the latest on access to NHS Services in the City and Hackney?
Why not join us for our next Board meeting in Public today  (Friday 12th February) between 1pm – 3pm. We'll be joined by David Maher, Managing Director of City and Hackney CCG, who will be giving a progress update on the Integrated Care Partnership for City and Hackney, and an update on the availability of NHS services on the provision of NHS Services in the City. And we'll hear from Jo-ann Sheldon from Tower Hamlet's CCG on the new GP surgery in the Goodman's Fields Health Centre in Aldgate. There will also be an overview on the work of Healthwatch City of London. 
Due to the ongoing pandemic we will be holding this event virtually over Zoom.
To join us please email info@healthwatchcityoflondon.org.uk to register your interest, you will be sent the joining details nearer the time.
Vaccine assistance for the clinically vulnerable
If you are clinically vulnerable or care for anyone who is clinically vulnerable, you can now access extra support.
Laura Sharpe, CEO of City and Hackney GP Confederation, can be contacted to talk through what support is available e.g., transport to and from vaccination sites.
Please remember that family, friends and carers are all allowed to the site too, to accompany someone, and staff at the site can be alerted if you/your cared for need support once there.
You can contact Laura via email laura.sharpe1@nhs.net
Blood test changes at Barts Health
Barts Health patients no longer need to attend hospital for a blood test after a number of local centres – known as community phlebotomy hubs – were established across north east London boroughs. The hubs, which are typically located at GP practices and health centres, are open to patients who have had blood tests requested by GPs or by hospital teams. As well as offering greater convenience and cutting down on travel time, they are also helping patients avoid unnecessary trips to hospital whilst Covid-19 remains in circulation in society. Barts Health patients are not only benefiting from more blood test locations. A new service means medicines can now be delivered direct to the door, without the need to visit hospital. For details on how to use their phlebotomy services, visit the Barts Health website: www.bartshealth.nhs.uk/phlebotomy You can also read a blog from consultant Tom Butler who is leading on this project
Upcoming Healthwatch City of London Events
One of Healthwatch City of London's purposes is to understand the needs, experiences and concerns of people who use health and social care services and to speak out on their behalf. To ensure we hear of and know of your concerns we run regular events. Ideally, we'd like to hold them face to face, but because of the current pandemic we are restricted to Zoom events.
Please see a list of our events below with joining details.
Listening to City Carers - Friday 19th February
Overview: This group is for all unpaid carers who live in the City of London. We would love to hear from young carers too.
Time: 3pm – 4pm
Joining details: https://zoom.us/j/98474089653?pwd=T3gxaFhmUU5XcEt2NHIvbjZyamMyQT09
Meeting ID: 984 7408 9653 Passcode: 281825 Dial in: 0208 080 6592
Mental Health Focus Group – Friday 26th February
Overview: We would like to hear from anyone who or knows of anyone who's mental health has suffered as a result of the pandemic. We will be joined by Dean Henderson from East London Foundation Trust and colleagues from MIND.
Time: 3pm – 4pm
Joining details:
https://zoom.us/j/92880753825?pwd=Y1ppQjhvM3VRTXM4TU5IYW5zaWl1Zz09 
Meeting ID: 928 8075 3825 Passcode: 429130 Dial in: 0203 481 5237
COVID 19 vaccination programme information event – Wednesday 10th March
Overview: We are holding an information evening for City of London residents, to give an update on the vaccination programme. Residents are invited to submit questions prior to the event, which will then be put to the panel. Confirmed for the panel so far are Dr Sandra Husbands, Director Public Health, City of London and Hackney Public Health. The event will be chaired by our Chair Gail Beer.
Time: 6pm – 7pm
Further details: To submit a question and to register for the event, please email info@healthwatchcityoflondon.org.uk
CCG Vaccination and information events
The City and Hackney CCG are organising a series of events regarding the vaccination. These are both information sessions and vaccination clinics. Please see the attached flyers for further information.
Saturday 13 February, 8.30pm-12pm
Hatzola vaccination event
A vaccination clinic for Orthodox Jewish residents. Please see the attached flyer for further information.
Thursday 18 February, 5.30pm – 7.30pm
COVID 19 Vaccine Conversations: Black Communities in City and Hackney
City and Hackney Healthcare Partnership alongside community leaders are hosting an online vaccine event for our black communities.
Answering your questions and providing information, Dr Sandra Husbands, Director of Public Health for City and Hackney. The panel for the evening will include:
Reverend Rosemia Brown from St James The Great Church Clapton
Peter Merrifield CEO of SWIM Enterprises
Patrick Vernon OBE, social commentator, cultural historian and health activist
Janette Collins, MBE, Manager, The Crib your project
Viv Ahum, Director, Aspire Education Group - Europe and Africa
Rosemary Jawara, Peer Educator, Beersheba Livingwell for Black and diverse communities at greater risk of type 2 diabetes
Toyin Agbetu, Community Educator, Ligali - Pan African, human rights organisation
Abdi Hassan, Founder Coffee Afrique, Somali community
Yvonne Field, CEO, Ubele - African Diaspora led intergenerational social enterprise
You can register for the event and submit a question using the Eventbrite link below.
https://www.eventbrite.co.uk/e/covid-19-vaccine-conversations-black-communities-in-city-and-hackney-tickets-140251047659 
Latest Covid-19 statistics for the City of London
The joint City and Hackney Public Health Intelligence Team produce regular statistics on Covid-19 levels in the City. The site below breaks down the cases in the City, and in Hackney, and by Ward, this enables residents to see the wider picture of infection rates. The site is updated regularly. https://hackney.gov.uk/coronavirus-data
City Carers Community Event – Introduction to Monoprinting
Learn to create stylish, handmade, one-off prints from photographs or sketches at an online event organised by the City Carers Community, via Zoom on Sunday 14th February between 11am -12pm.
Suitable for absolute beginners. The image will be provided to you, as you learn together with fellow carers, how to create a monoprint. The simple technique will be taught by Billy Mann.
This session is free and open to all City Carers and City residents and is funded by the Imagine fund from Culture Mile. Spaces are limited so booking is required.
To sign up please email CityCarersCommunity@gmail.com
Find Support Services website launch
Find support services is a new website launched by the City of London Corporation and Hackney Council, that displays voluntary and community organisations offering a wide range of support to City and Hackney's residents.
The website features organisations that offer support on many levels, and to individuals with many different needs.
Whether you are looking for yourself, a loved one, a patient or service user, you can search for the right support in a variety of ways: by category, by demographic or by keyword. 
If you are a voluntary or community organisation, you can also add your organisation to this resource. The aim of the site is to be City and Hackney's primary resource for residents and health professionals looking for help in your sector.
Every organisation that is featured are asked to provide key information such as a charity number or funding body to give a level of reassurance and confidence to users of the website. 
Don't forget to tell your friends, family and colleagues about this great resource! Or if you know of an organisation that should be included, please contact them on fss@hackney.gov.uk or visit https://find-support-services.hackney.gov.uk/ or follow them on Twitter @CityHackneyFSS
Stay in touch with your loved one in hospital
Barts Health NHS Trust have created dedicated family contact centres to help families stay in touch and get updates on how their family member are. The centres provide one point of contact to ask for information about a loved one by e-mail or telephone. Messages can be relayed to the ward teams who can provide responses, bringing families closer together while visiting restrictions remain in place.  
They can help with arranging language support, dropping off items and food, spiritual and religious support, setting up virtual visits using iPads and help with and sending photos and messages to loved ones.
Barts Health state 'We understand the difficulties faced by families during the pandemic in visiting each other. However, we have to strike a balance to keep our patients and their relatives safe while reducing the risk of spreading Covid-19 and affecting the wider family. This policy, on our trust and hospital websites, is reviewed on a regular basis'.
Details can be found on their website pages for each hospital, details of which are:
W: The Royal London Hospital T: 020 3594 2040 E: bartshealth.familycontact@nhs.net
W: Newham Hospital T: 020 7363 9047 E:bartshealth.newhamfamilycontactcentre@nhs.net
W: Whipps Cross Hospital T: 020 8535 6432 E: wxhgovernance.bartshealth@nhs.net
W: St Bartholomew's Hospital T: 020 3465 6883 E: bartshealth.sbhenquireshub@nhs.net
Involvement in research opportunities
Hypertension study
Do you want help with keeping an eye on your blood pressure during the COVID-19 emergency? Are you over the age of 18? Have you had problems with control of your blood pressure before? Are you able to use a smartphone and willing to contribute to blood pressure research from the comfort of home?
Personalised dosing could help change that. A team at Queen Mary University of London are recruiting patients for a study using amlodipine. The aim to help you manage your blood pressure during the COVID19 pandemic. If you're interested visit the website. The name of the study is, 'Personalised Electronic Record Supported Optimisation when Alone for Patients with Hypertension- Pilot Study for Remote Medical Management of Hypertension During the COVID-19 Pandemic'
Involvement in research opportunity
The National Institute for Health Research (NIHR) Clinical Research Network (CRN) North Thames (NT) Research Delivery Leadership Group is looking for two patients or members of the public or carers to join the group.
The CRN is looking for two individuals who are fully aware of the importance and the role of clinical research and who understand the broader range of patient and public perspectives beyond their own personal experience and can use that to inform the work of CRN NT. 
Interested people should email Christine Menzies, before Friday 12th February, highlighting their experiences that would make them a good fit to take on this role. 
Keep up to date with the latest advice
HWCoL are constantly updating our advice and information pages. Please make sure you visit them regularly.
Get in touch with Healthwatch City of London
Visit our website for more information, news and events, have your say about your care, and spread the word about Healthwatch City of London.
www.healthwatchcityoflondon.org.uk email: info@healthwatchcityoflondon.org.uk
Tel: 020 3745 9563 Facebook: facebook.com/CoLHealthwatch Twitter: @HealthwatchCoL
Portsoken Health and Community Centre, 14-16 Little Somerset Street, London E1 8AH