Healthwatch City of London Bulletin 21
Read the first edition of the year from Healthwatch City of London, it gives the latest news on the Covid vaccination roll out and details of Health and Social care provision across the City during lockdown.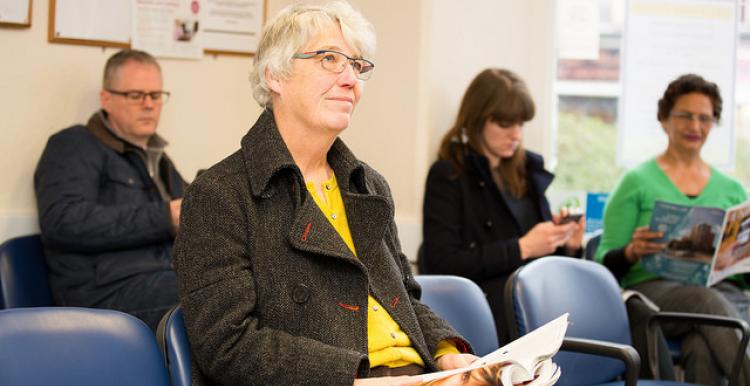 Healthwatch City of London would like to wish you all a Happy and Safe New Year.
Coronavirus vaccine update
City and Hackney health and care partners are working together to deliver a Covid-19 vaccination programme for our residents and frontline staff. The first batch of vaccines was rolled out in December 2020 with nearly 1000 local people aged 80+ being the first cohort to receive their first vaccinations. The vaccination programme will continue in line with the national plan and GP surgeries will contact eligible patients when it is their turn to receive the vaccination.
The next batch of vaccines for City and Hackney are due to be delivered between the 13th and 15th of January. City and Hackney are currently working to bring additional vaccination hubs on-line to administer the vaccines. As soon as we are informed the vaccines have been delivered and the sites that vaccines will be administered from, HWCoL website will be updated with information. Those eligible will receive notification of the date shortly.
Several vaccines are being developed, and there are now currently two available on the NHS - the Pfizer/BioNTech and Oxford/AstraZeneca vaccines - which have been tested and approved to ensure they are safe and effective. 
The vaccine is currently offered to people who are most at risk from coronavirus, before being offered more widely.  The order of priority for the vaccine at the moment is as follows:
     1. Care home residents and staff
     2. 80+ and health and social care workers
     3. 75+
     4. 70+ and/ or 'Clinically Extremely Vulnerable'
     5. 65+
     6. 'At risk' groups
     7. 60+
     8. 55+
     9. 50+
Avoid vaccine scams
Residents will only be contacted by their GP when eligible for the vaccine. Please be alert around scam text messages/cold calls telling you that you are eligible for a COVID vaccine. Check telephone numbers and email addresses to confirm that you have been contacted by your GP practice. Do not provide your payment details or any personal details in links attached. When your GP contacts you about the vaccine, they will not ask for payment.
Protect others by reporting incidents like this. Report it to Action Fraud on 0300 123 2040 or visiting the Action Fraud website.
Latest Covid-19 statistics for the City of London
The joint City and Hackney Public Health Intelligence Team produce regular statistics on Covid-19 levels in the City. The site below breaks down the cases in the City, and in Hackney, and by Ward, this enables residents to see the wider picture of infection rates. The site is updated regularly. https://hackney.gov.uk/coronavirus-data
National Lockdown: Stay at home
You must stay at home. This is the single most important action we can all take to protect the NHS and save lives. You must not leave your home unless necessary. Stay 2 metres apart from anyone not in your household or bubble. Here are the details of the new law.
A summary is as follows:
Leaving home
You must not leave, or be outside of your home except where necessary. You may leave the home to:
shop for basic necessities, for you or a vulnerable person
go to work, or provide voluntary or charitable services, if you cannot reasonably do so from home
exercise with your household (or support bubble) or one other person, this should be limited to once per day, and you should not travel outside your local area.
meet your support bubble or childcare bubble where necessary, but only if you are legally permitted to form one
seek medical assistance or avoid injury, illness or risk of harm (including domestic abuse)
attend education or childcare - for those eligible
Education provision
Colleges, primary and secondary schools will remain open only for vulnerable children and the children of critical workers. All other children will learn remotely until February half term. Early years settings remain open.
Higher Education provision will remain online until mid-February for all except future critical worker courses.
Stay local
If you do leave home for a permitted reason, you should always stay local - unless it is necessary to go further, for example to go to work. Stay local means stay in the village, town, or part of the city where you live.
If you are clinically extremely vulnerable you should only go out for medical appointments, exercise or if it is essential. You should not attend work
Meeting others
You cannot leave your home to meet socially with anyone you do not live with or are not in a support bubble with (if you are legally permitted to form one).
You may exercise on your own, with one other person, or with your household or support bubble. This should be limited to once per day, and you should not travel outside your local area.
You cannot meet other people you do not live with, or have not formed a support bubble with, unless for a permitted reason.
Stay 2 metres apart from anyone not in your household.
GP access across the City
The NHS in London is very busy due to rising coronavirus infection rates, but  you can still get care via your GP when you need it.
GPs are providing more appointments, including evenings and weekends, for patients with urgent health needs. Contact your practice, or check their website, and they will tell you how to arrange same-day appointments if you need care.
You can also contact 111, day or night, for other urgent health advice - including if you have concerns about your Covid-19 symptoms. Please remember that 999 and A&E are for emergencies.
Mental Health Care provision
East London NHS foundation Trust, who provide Mental Health services for the City will continue with the following provision during lockdown.
Adult Mental Health Services remain open for business. Referrals are still being accepted for all their services and existing service users will still be seen face to face where this is clinically needed.
The Community Teams are contactable as usual. The Donald Winnicott Centre covers the City of London and their phone number is 020 7033 6100.
People who are known to these services will be able to contact their Duty Worker in the usual way, if necessary.
The Crisis, Home Treatment and Acute Inpatient Services will be operating as usual.
If someone is in crisis: Call the 24-hr Crisis Line number 0800 0730006
Adult Social Care provision
Adult Social Care will continue to deliver the same level of provision as in previous Tiers. They are operating a small rota-based staff from the Guildhall five days week carrying out all statutory duties under the Care Act and Coronavirus legislation, including all safeguarding requirements.
They continue working with health partners in hospital and community settings to support discharges from hospital, whether back home or into residential care, as required.
As well as undertaking assessments of need they are continuing to work directly with patients, both carers and the cared for, to sign post them to the services they require.
GP patient survey
The 2021 GP Patient Survey launched on Monday 4 January.  It is an independent survey run by Ipsos MORI on behalf of NHS England. If you receive a survey in the post please complete it and encourage others to do so too.  You can return the survey by post or complete it online.
The survey is a key source of information about the performance of GP practices and CCGs. Due to changes made as a result of COVID-19, it is more important than ever that you share about experiences of using local GP and health services.
Covid 19 Vaccine survey
There is growing anecdotal feedback of vaccine hesitancy and misinformation, which may have an impact on the number of people who take up the vaccine.  As such, City and Hackney CCG are looking to carry out some research locally.
While many people will take up the offer of a COVID-19 vaccine when it's offered to them, some may have some concerns. These are normal when it comes to something new; we often feel uncomfortable when we think that we don't know enough to make our own minds up.
Please complete the survey to share your thoughts on the COVID-19 vaccine and whether you and/ or members of your family are likely to get the vaccine once is it offered to you. 
Free Qi Gong sessions for Carers and Residents
The City Carers Community invites you to join us in an introduction to Qi Gong, taught by a professional instructor. You will learn the art of peaceful, gentle movement-based exercise. Open to City Carers, friends, family, and City residents of all ages.
The sessions last for one hour and will be held over Zoom at 11am on Sunday 10th, 17th & 24th January 2021.
Booking is required email by 8am Sunday 10th January CityCarersCommunity@gmail.com
Virtual Dragon Café in the City
The first virtual Dragon Café in the City session of 2021 is taking place on Wednesday 13th  January on Zoom.
The award-winning Dragon Café in the City is free and open to anyone working or living in the City and provides a (virtual) space for them to release the pressure, try something new, and engage in creative activities designed to foster positive mental and physical wellbeing.
Next week's programme includes:
New Year mindfulness
Mindful walking and drawing
Yoga
Chess
…and more.
The programme and a downloadable PDF poster can be found online here.
Dentistry during the pandemic survey
In response to COVID-19, dental services have had to drastically change the way they work. Our latest survey is designed to find out how you managed to access dental services during the pandemic.
Most dentists closed from April to September with dental care being provided either remotely with analgesia and antibiotics or through Urgent Dental Care Centres (available by referral from your dentist or NHS 111).
Since September, most dentists in the City of London will now have opened to existing patients.
We are keen to hear about your experiences of accessing dentistry during this time so that we can understand how provision in the City of London is meeting needs.
The responses that you provide will be treated anonymously and will help us understand the state of care locally and drive improvements where necessary during this period. Please complete the survey by clicking on the link below.
Dental Services access during Coronavirus Survey (surveymonkey.co.uk)
Employment Opportunity
Healthwatch City of London are seeking an experienced part-time Administrator to work 2 days a week. Further information on the post including how to apply will be available from HWCoL website from Monday 11th January 2021
Keep up to date with the latest advice
HWCoL are constantly updating our advice and information pages. Please make sure you visit them regularly.
Get in touch with Healthwatch City of London
Visit our website for more information, news and events, have your say about your care, and spread the word about Healthwatch City of London.
www.healthwatchcityoflondon.org.uk email: info@healthwatchcityoflondon.org.uk
Tel: 020 3745 9563 Facebook: facebook.com/CoLHealthwatch Twitter: @HealthwatchCoL
Portsoken Health and Community Centre, 14-16 Little Somerset Street, London E1 8AH