Healthwatch City of London Bulletin 17
This week's bulletin advertises flu jabs for all 2-3 year-olds from the City of London this weekend, the rapid COVID testing roll out and the City and Hackney CCG's Let's Talk about Staying Well this Winter webinar.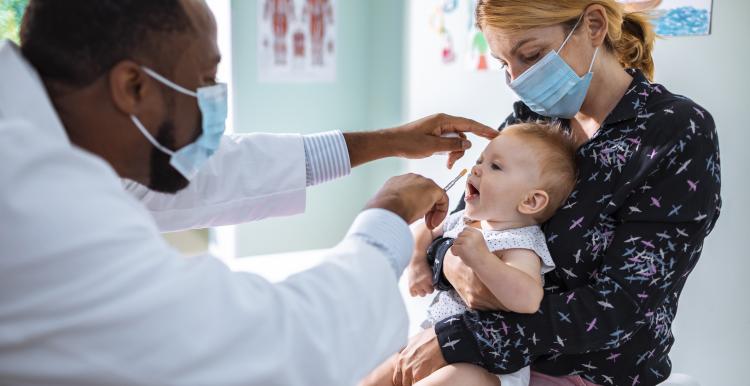 Good news!
Healthwatch City of London, like everyone else, is delighted to hear the news of the imminent vaccine for COVID 19. We will keep abreast of developments around the vaccine and other potential vaccines and keep you all informed of the plans for the programme of administering them across the City.
Flu vaccination available this weekend for 2-3 year-olds
2-3 year-olds who reside in the City of London or Hackney can get vaccinated this Saturday and Sunday.
The Health Visiting Service is offering vaccination appointments to children born between 1st Sep 16 and 31st Aug 18 inclusive.
Linden Children's Centre (86-92 Rectory Rd, Clapton, London N16 7SH) on Saturday 14th November 2020
Woodberry Down Children's Centre (Springpark Dr, Woodberry Down, London N4 2NP) on Sunday 15th November 2020
To book an appointment or for further information call 020 7683 2669 or 07787 845 702 or e-mail huh-tr.chishv@nhs.net leaving your child's name, date of birth and NHS number if you have this. Please do not call the children's centres directly.
To find out more visit https://bit.ly/38BovhU  or call 0207 683 2669
Rapid COVID-19 tests to be rolled out across the City
The Government has announced the next phase of their plan to expand asymptomatic testing for COVID-19. As trialled in Liverpool last week, over half a million rapid-turnaround lateral flow tests will be sent out by NHS Test and Trace to local public health leaders this week. The City of London has been chosen to take part in this phase.
Test kits will be issued this week, to enable local teams to direct and deliver community testing based on their local knowledge. Each will receive a batch of 10,000 antigen lateral flow devices as part of a new pilot to enable them to start testing priority groups.
The Government says, 'Proactively testing asymptomatic individuals will help identify those who unknowingly have the virus and enable those who test positive and their contacts to self-isolate, which can help drive down the R rate locally and save lives. This is crucial to break the chains of transmission of the virus and to support critical industries, key workers and institutions. With lower rates of transmission, those at highest risk from the virus will be more protected and residents will feel more confident in getting back to their day-to-day lives'
Healthwatch City of London will request further information on the roll out across the City and will keep you informed.
Let's Talk about Staying Well this Winter
City and Hackney CCG are hosting and online event, Let's Talk about Staying Well this Winter on Wednesday 18th November between 16:00 and 18:00. The event marks the national self-care week (16-22 Nov) and is aimed at raising awareness of the things people can do to stay well this winter, and the support and services that are available to City and Hackney residents.  
The webinar will include:
top tips for self-care from professionals and other residents
what to do when you need help
why getting a flu jab is so important
mental health and resilience
share your experiences and connect with other local residents
The events promises lots of useful information, activities, guest speakers including Dr Mark Rickets (Chair of City and Hackney CCG and a local GP)
To reserve your place and enter a prize draw, please register via Eventbrite . Log in details will be shared with registered participants ahead of the event.
If you or someone you know would like to attend this event by telephone,  please contact the team by Friday 13 November.
Update on podiatry services
We have received this update on podiatry services from Homerton Hospital, following our enquiry.
"The service is open and providing both face to face and remote consultations.
The face to face clinics are scheduled in accordance with social distancing and infection control guidelines and therefore the number of appointments we can offer are at present reduced.
We are offering face to face appointments at the following sites;
1. St Leonards Hospital, Nuttall St, London N1 5LZ
2. John Scott Clinic, 220 Green Lanes, Woodberry Down, London N4 2NU  
3. Kenworthy Road Health Centre, 10 Kenworthy Rd, London E9 5TD
4. The Neaman Practice, 15 Halfmoon Ct, Barbican, London EC1A 7HF
Please ask current patients to call CAS ( 020 7683 4676) for an appointment and there is no need to refer again
Emergency Clinic
This is at St Leonards and is by appointment only – If you have any queries regarding an emergency foot condition/ urgent referral, please call the Duty Podiatrist to discuss and they can arrange an appointment.
Duty Podiatrist Contact; 020 7684 4046/4347
Duty Podiatrist Hours; 09:00-16:30
Email: - huh-tr.foothealthhomerton@nhs.net
Referrals For routine referrals please refer online using E-Rs or email the service;
Email: huh-tr.foothealthhomerton@nhs.net  
**Please note they do not provide a nail cutting service**"
Latest Covid-19 statistics for the City of London
The joint City and Hackney Public Health Intelligence Team produce regular statistics on Covid-19 levels in the City. The site below breaks down the cases in the City, and in Hackney, and by Ward, this enables residents to see the wider picture of infection rates. The site is updated regularly. https://hackney.gov.uk/coronavirus-data
Healthwatch City of London constantly update our advice and information pages where you can view the weekly data.
Safeguarding Adults week  
The City and Hackney Safeguarding Adults Board (CHSAB) are holding their Safeguarding Adults Week between 16 – 20 November. The following engagement sessions are for residents to attend.
Monday 16th November 2020
16:00 - 17:00 CHSAB Strategy Launch
Wednesday 18th November 2020
16:00 - 17:00 Q&A: Adult Safeguarding for all Communities, City and Hackney Safeguarding Adults Board
If you are interested in attending either of the events please contact chsab@hackney.gov.uk to register interest or find out more about the events.
Keep up to date with the latest advice
HWCoL are constantly updating our advice and information pages. Please make sure you visit them regularly.
Get in touch with Healthwatch City of London
Visit our website for more information, news and events, have your say about your care, and spread the word about Healthwatch City of London.
www.healthwatchcityoflondon.org.uk email: info@healthwatchcityoflondon.org.uk
Tel: 020 3745 9563 Facebook: facebook.com/CoLHealthwatch Twitter: @HealthwatchCoL
Portsoken Health and Community Centre, 14-16 Little Somerset Street, London E1 8AH