Healthwatch City of London Bulletin 6
Read this week's bulletin, with information on our Listening to Carers session and our next Board meeting in Public.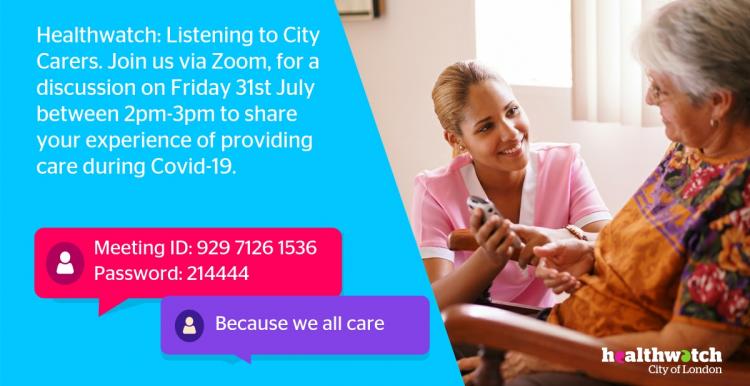 Listening to City Carers
We will be holding the next in our series of virtual events for carers in the City. We'd like to hear about: your experiences of being a carer during Covid-19, if you'd like to share any advice or tips, what has your access to services been like? Your feedback helps us to inform providers to improve services in health and social care. Please drop in any time between 2pm and 3pm on Friday 31st July.
Join us via Zoom on Friday 31st July between 2pm – 3pm
Link: https://zoom.us/j/92971261536?pwd=bHdIbGpZVjJaOTVnbE5kOEoxNkNTZz09 Meeting ID: 929 7126 1536  Password: 214444
We are here to understand the needs, experiences and concerns of people who use health and social care services and to speak out on their behalf. We focus on ensuring that people's worries and concerns about current services are addressed and we work to get services right for the future. Given the current situation, we realise that many health and social care services are being delivered differently and will be so in the future. We will be holding these sessions monthly.
We are running a specific survey on understanding carer's needs, views and experiences. You can access it here as well as other surveys we are running.
Healthwatch City of London Board Meeting in Public
The next Healthwatch City of London Board Meeting in Public will be held on Thursday 30th July between 13:30 and 15:30 via Zoom. 
We will have guest presenters to give updates on the St Leonard's proposals, and the CCG Covid recovery plan. Healthwatch City of London will give overviews on our Business Plan, our Q1 performance and our Annual Report. 
The event will be held via Zoom. Please email info@healthwatchcityoflondon.org.uk to register your interest in attending. Joining details will be sent nearer the time. 
Keep up to date with the latest advice
HWCoL are constantly updating our advice and information pages. Please make sure you visit them regularly.
Get in touch with Healthwatch City of London
Visit our website for more information, news and events, have your say about your care, and spread the word about Healthwatch City of London.
www.healthwatchcityoflondon.org.uk email: info@healthwatchcityoflondon.org.uk
Tel: 020 3745 9563 Facebook: facebook.com/CoLHealthwatch Twitter: @HealthwatchCoL
Portsoken Health and Community Centre, 14-16 Little Somerset Street, London E1 8AH