Healthwatch City of London Newsletter 30 April 2021
As the country comes out of lockdown Healthwatch City of London's focus is now on the returning of Health and Social Care services, you can read about our work in this newsletter.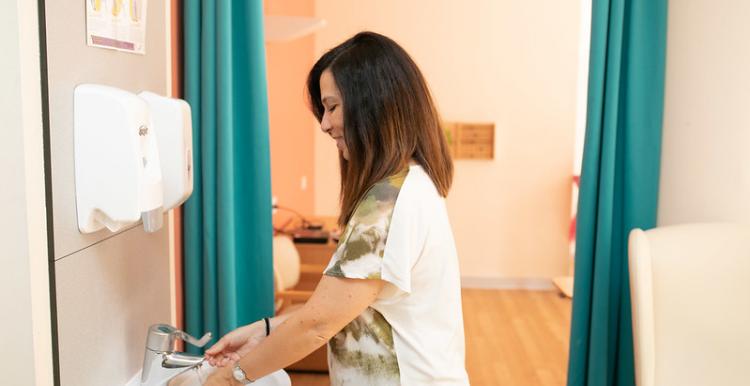 Dear Reader,
As we move forward out of the pandemic and the Country is reopening, our focus is on Health and Social care services returning to normal. We will be concentrating our efforts on making sure that you are able to access these services when you want to, and that face-to-face appointments are available alongside digital appointments, making sure that all members of the community have equal access.
You will see below that we are working closely with the CCG and Homerton hospital on the provision of the Podiatry service and the clinics available.  You have told us about your problems, and we are working hard to resolve them.
We know that there have been several issues with the Neaman Practice, and that access to appointments has been problematic. We are in discussions with the Practice, the City of London, and the CCG to help resolve these issues, and we hope to bring you better news over the next weeks. Hopefully, the new telephone system and appointments system will be up and running soon which will enable a significant improvement in access to appointments. Do let us know about your experiences in the coming weeks.
Our work on the St Leonards redevelopment programme is now underway. The project involves both us and Hackney Healthwatch, the City of London Corporation, Hackney Borough Council and CCG. We want to ensure that the hospital development meets the needs of our population. Over the next few months, we will be asking you to get involved in the project to ensure that your voice is heard, and a proper consultation process takes place.
With services, shops, offices, and amenities reopening, may I take this opportunity to remind everyone that we still need to abide by the advice of Hands, Space and Face. Please stick to the Government guidance.
Stay safe.
Gail
Gail Beer, Chair Healthwatch City of London.
Healthwatch City of London Board Meeting in Public
Healthwatch City of London will be holding our next Board Meeting in Public on Friday 14th May between 1pm and 3pm. The meeting will be held over Zoom.
We'll be giving an update on the work we have carried out over the past few months. We will be joined by a colleague from Barts to talk to us about services restarting post the COVID pandemic and waiting lists.
If you'd like to join us, please send an email to info@healthwatchcityoflondon.org.uk
Neaman Practice  
As we updated last week in our bulletin, we have been alerted about several issues you have been experiencing over the last few months, not least access to appointments, the telephone system and online appointment booking. HWCoL have regular bi-monthly meetings with the Practice and at our next meeting on the 20th May we will be getting an update on the steps they are taking to make improvements. If there is anything you would like us to raise at this meeting other than issues mentioned above, do let us know.  Only with your input will we know what more needs to be done. 
If you do have a complaint to make, you can do so by following the Practices' complaints procedure and completing their on-line form. To help us help you please do get in touch with us at info@healthwatchcityoflondon.org.uk  Your complaint will remain anonymous if you so wish.
Podiatry update
As some of you may be aware there have been some difficulties in getting podiatry appointments since the beginning of the pandemic.   The change in pathways because of Covid have resulted in some confusion about how to gain access to the service. Healthwatch have been working hard to make sure everyone is clear about how and where to access the service.
You can access the service by completing the form on the Homerton Hospital website, Podiatry self-referral | Homerton University Hospital Foundation Trust  
Or you can book via GP referral for the clinic at the Neaman Practice. Please contact the Practice on 020 7600 9740
HWCoL are also investigating the patient criteria for the service as we have been told by users of the service that they believe this has changed.
If you have any difficulties with the form or have any other problems accessing the service, please do let us know.   Tell us about your experiences of the service and we can feed those back to the Head of Podiatry at Homerton Hospital.
Response to the City Plan consultation
The City of London Corporation are currently consulting on their City Plan 2036.
The new Local Plan, called City Plan 2036, sets out what type of developments and changes the City Corporation expects to take place and where. It sets out the City Corporation's vision, strategy, and objectives up to 2036.  It's a lengthy document, but the plan impacts on all our lives so please do read it and comment.
Healthwatch City of London will be formally responding to the City Plan consultation, which we will publish after submission on 10th May.  For our previous response to the consultation exercise in 2019 please see the document attached below.
For more information on the City Plan visit the CoL's website. Please let us know if you have any comments that you wish to be included by 5pm on Wednesday 5th May, by emailing info@healthwatchcityoflondon.org.uk
Women's Health – call for evidence
The Department of Health and Social Care has launched a call for evidence to better understand experiences of women's health and care.
They are encouraging women to share their experiences of all aspects of health and care, from mental health to fertility to education and research. This will help form the basis of a new health strategy which aims to improve the health and wellbeing of women and ensure health services are meeting their needs. 
They are also interested in hearing from people who live with and care for women, organisations with experience of providing services for women and those with expertise in this field.
You can take part by completing the public survey.
Mental Health and Wellbeing accessing services and advice
The effect of the COVID 19 pandemic and the subsequent lockdowns on mental health and wellbeing is now being felt across the country. More people are accessing services for help. If you would like help for yourself, a dependant or someone you know, here is how you can access both NHS and charitable organisations.
City and Hackney Crisis line
If you need urgent help because you are worried that you might harm yourself or someone else, call the 24-hour City & Hackney crisis helpline freephone 0800 073 0006
Find support services map
The find support services map shows organisations that are open but providing an online or phone alternative to their usual activities in response to coronavirus
City and Hackney Wellbeing Network
The City and Hackney wellbeing network offers free support to help people prevent the onset of mental health problems and alleviate issues such as stress, anxiety and low mood. They also offer support to adults with severe and enduring mental health conditions. They offer a range of groups and courses to support people to improve their mental wellbeing, physical health, social networks and daily living skills.
You can read more about them by visiting City and Hackney Wellbeing Network
Kooth
Kooth is a free online counselling and emotional well-being support service for young people aged 11-19 years in City and Hackney. Kooth has no referrals or waiting lists and young people can access it anonymously. It's open 365 days a year from noon to 10pm weekdays and from 6 to 10pm on Saturday and Sundays.
Every Mind Matters
A campaign run by Public Health England giving tips and advice to help you look after yours mental health and wellbeing. Every Mind Matters | One You (www.nhs.uk)
Endoscopy Community Survey
Barts Health NHS Trust are asking the community to help us improve their service.
The endoscopy service has high numbers of patients cancelling, or not turning up to their endoscopy appointments. Endoscopies are camera tests used to investigate symptoms and diagnose health problems.
The Trust want to understand why there is such a high number of cancellations and no shows, so they can try and improve their service. This is vital in order to improve the health of our community. 
The survey includes information on what endoscopy is and why it is used, then asks you some questions that will take about 5 minutes to complete.
You can access the survey by clicking the following link https://www.smartsurvey.co.uk/s/endosurvey/
The Big Ask
Children across the Country are being asked to tell the government about their experiences of the coronavirus pandemic and hopes for the future.
It's called 'The Big Ask' survey, and is being led by the Children's Commissioner for England, Dame Rachel de Souza.
The survey will be the largest consultation with children in England and hopes to help shape the way the government approaches issues affecting children.
It runs until Wednesday 19 May and asks children across England to set out their priorities for improving their lives following the pandemic.
There are four main versions of the survey, aimed at children in the age groups four to five years old, six to eight years old, nine to twelve years old and thirteen to seventeen years old. There are also two easy read versions of the survey, and an adult version for parents, care leavers and people who work with children to share their views.
Please encourage the children and young people you know to take part.
Upcoming Healthwatch City of London Events
One of Healthwatch City of London's purposes is to understand the needs, experiences and concerns of people who use health and social care services and to speak out on their behalf. To ensure we hear of and know of your concerns we run regular events. Ideally, we'd like to hold them face to face, but because of the current pandemic we are restricted to Zoom events.
Please see a list of our events below with joining details.
*Change of date* Mental Health and Wellbeing Focus Group – Friday 14th May: An opportunity for residents workers, students and service providers to discuss mental health provision in the City of London, identifying access issues and any gaps in service provision. 
Time: 11:00 – 12:00 
Joining details: https://zoom.us/j/91874111747?pwd=N3N1eCtOTFdpU1dxbEpHaVBSYUQ4Zz09  
Meeting ID: 918 7411 1747 Passcode: 276063 Dial in: 0203 481 5240 United Kingdom 
Future dates for your diary. 
Listening to City Carers Group – Friday 21st May 11:00 – 12:00  
Drop-in session – Thursday 27th May 14:00 – 16:00 
Latest COVID-19 and vaccination data for the City of London
The joint City and Hackney Public Health Intelligence Team produce regular statistics on Covid-19 levels in the City. The site now also shows the vaccination uptake statistics.
The site below breaks down the cases in the City, and in Hackney, and by Ward, this enables residents to see the wider picture of infection rates. The site is updated regularly. https://hackney.gov.uk/coronavirus-data
City Carers Community Events
City Carers community invites you to 'Share and Learn' sessions for 45 minutes via Zoom. Open to unpaid carers or anyone who is looking after someone/ has looked after someone living in the City of London. 
The residents share tips/advice they have come across in their own caring lives in the City. You may have a question eg "Anyone tried booking the GP Advanced appointments?"  or a general natter the options are endless. 
The group is run by carers and for carers voluntarily. The next dates are Monday 3rd, 17th & 31st May. There are two times at 11.15am and at 8pm. For more details and the Zoom Link please email: CityCarersCommunity@gmail.com
Latest news in your language
All the information published in this newsletter, and on our website, can be translated into your preferred language. Simply click on the 'select language' box at the top of the page and select the language of your choice. (Translation is via google translate, so it may not be grammatically correct)
Turkish
Buradaki website ve yayınlanan bilgiler sizin konuştuğunuz Lisana çevrilmiştir. Tek yapacağınız şey, sayfanın başındaki 'Select Language' düğmesine basıp, konuştuğunuz Lisanı seçmektir.
Spanish
La información publicada en este boletín y en nuestra página web puede ser traducida al idioma que prefiera. Simplemente seleccione su idioma en el campo "select language" en la parte superior de la página (la traducción está realizada a traves de Google Translate por lo que puede ser que no sea gramaticalmente correcta).
Get in touch with Healthwatch City of London
Visit our website for more information, news, and events, have your say about your care, and spread the word about Healthwatch City of London.
Web: www.healthwatchcityoflondon.org.uk Email: info@healthwatchcityoflondon.org.uk
Tel: 020 3745 9563 Twitter: @HealthwatchCoL Facebook: @CoLHealthwatch
Portsoken Health and Community Centre, 14-16 Little Somerset Street, London E1 8AH