Healthwatch City of London Bulletin Number 22
Read our latest bulletin of the year providing advice on the Covid vaccination roll out, Cervical Cancer screening and details of Healthwatch City of London's next Carer's listening event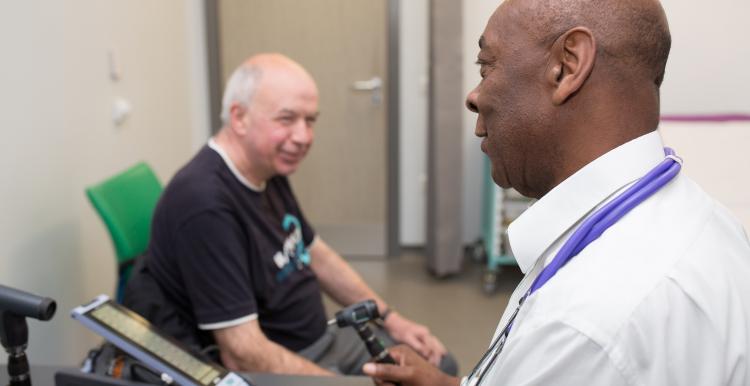 Booking your Vaccination appointment
If you have not already been invited for your vaccination, then over the coming weeks you will be receiving a letter or text asking you to book your appointment. The letter will either come from NHS England or your local GP. The text will come from your GP practice and will include a link to book your appointment.
The NHS England letter will invite you to either book online or call 119 to book an appointment. Vaccinations via NHS England are being administered at the ExCel centre or from a pharmacy, currently the nearest available is in Walthamstow.
If you would prefer to book an appointment at a local site these are available through your GP. Local administration of the vaccine is at Bocking street Hackney, directions are available using the Google map link here: 3 Bocking St - Google Maps.
If you would prefer to wait for a local appointment then you can, and although it might delay  your  vaccination appointment this delay should be of very short duration.
St Bartholomew's Hospital have been offering vaccination appointments at short notice. Please check Healthwatch City of London website, Facebook page or Twitter feed regularly on their availability. We will email you as soon as we know.
Transport and assistance with vaccination appointments.
If you require Patient transport to your vaccination appointment this is booked through your GP practice.
East London Age UK are also offering support for residents to attend their appointments at no cost.
East London Age UK Transport Service
On the day of your vaccine, you will be collected by a member of the home and care team in an Uber cab and taken to your vaccine destination point. They will wait with you whilst you have the vaccination and will then escort you back home. This free service is available to  City of London residents.
East London Age UK service is available to:
Older people over the age of 65 years unless there is a diagnosis of dementia or similar condition. 
Living alone or with another person who meets the service criteria. 
Have no family or friends who are able to escort them. 
You are in receipt of shielding letter.
On the day of your vaccine, you will be collected by a member of the home and care team in an Uber cab and taken to your vaccination centre. They will wait with you whilst you have the vaccination and will then escort you back home. The service is available in the City of London and there is no cost to you as the service is free.
A link to the service is available here: Transport services for the elderly and disabled | Age UK
For further information about the service, please telephone the Home & Care Services Manager on: Mobile: 07754 751 079 or email Kay.munns@ageukeastlondon.org.uk.
Booking a COVID-19 Test
Booking a test is simple and can be done online via the NHS website, by calling 119 or using the NHS COVID-19 app. There are five testing sites based in the City of London and Hackney, including one at Guildhall Yard. 
If your test is positive, you will be advised to continue self-isolating for the full 10 days. You may also be told to self-isolate by NHS Test and Trace, or a City Corporation contact tracer if you've been in contact with someone else who's tested positive. 
Advice on support available for City residents who are self-isolating is including within this bulletin.
Watch out for COVID-19 scams.
Unfortunately, some criminals are taking advantage of the coronavirus pandemic to scam people out of money and personal information or to encourage people to click on malicious links. 
Please follow the guidelines below: 
Be wary of anything relating to coronavirus support by text message or social media that doesn't come from an official source, such as the Council, UK Government, Citizen's Advice, or the NHS. 
Check anything suspicious. For example, where a text claims to be from an official source and includes a link, cross check the website link with the organisation's website. If it does not, do not click on the link. Please note that pages on the UK Government's website will always end in 'gov.uk'. 
For official information about support available during the pandemic, always search the Government's website to ensure that this support offer is genuine.
If in doubt, you can contact the official organisation that the offer claims to be from via social media*, email or phone number, to check its authenticity.
Check a phone number with a second source such as the organisation's website.
Even if the text comes from someone you trust and know personally. Call them or send them a message on social media to ask if they posted the offer. It is always best to check with the official organisation that the offer claims to be from if something doesn't look right. 
Further advice is available using the following link: Action Fraud
Cervical Cancer Prevention Week 18-24th January 2021
This week is cervical cancer prevention week and people in north east London are urged to book their cervical screening appointments.
Cervical screening is still be carried out during the Covid-19 pandemic, with health leaders across north east London encouraging women and people with a cervix to attend screening if they receive an appointment invitation.
Those aged 25 to 49 are screened every three years, and those aged 50 to 64 every five years. People aged over 65 are only screened if one of their last three tests was abnormal. If you are due for cervical screening, you will receive an invitation to book an appointment though a text or letter.
Caroline Cook, screening programme lead for the North East London Cancer Alliance, said: "Cervical screening is not a test for cancer, it is a test to help prevent cancer. It is one of the best ways to protect yourself from cervical cancer and it helps saves 2,000 lives every year.
"You can request a female nurse or doctor. It may be a little uncomfortable but only takes a few minutes and could save your life. Anyone with concerns or questions should contact their GP practice."
Covid-19 Safety
GP practices and other screening providers have put increased infection control measures in place to ensure screening appointments continue. This includes the use of personal protective equipment (PPE) for the safety of patients and staff.
If you are self-isolating, you should not book an appointment until you have finished isolating. If you have concerns or are shielding, please contact your GP practice to discuss your situation.
For more information
Jo's Cervical Cancer Trust is the UK's leading cervical cancer charity, providing information and support to anyone affected and campaigning for excellence in cervical cancer treatment, care, and prevention. Its national Helpline is free, confidential and on 0808 802 8000.
For more information about smear tests, there is a short video to explain the facts, as well as Your Guide to Cervical screening. There is also useful advice for trans and non-binary people on attending smear testing. The No Barriers Cervical Screening Project provides a specialist service at 56 Dean Street for trans men and non-binary people.
Letter from the Lord Mayor and Policy Chair
Residents will have received a letter from the Rt Hon Lord Mayor Alderman William Russell and Chair of Policy and Resources for the City of London Corporation, Catherine McGuinness.
As well as reinforcing Government guidance the letter  gave some helpful links for support .
If you cannot arrange for food, medication, and other essential items to be delivered while you and your household self-isolate, please let the City Corporation know so that we can help. You can do this by email or by calling 020 7606 3030. 
COVID-19: help with food and money.
If you live or study in the City of London or live on a City Corporation estate, you can access free, confidential, and impartial advice on a range of issues including help with food, benefits advice, and debt. You can call City Advice, 10am to 5pm, Monday to Friday on 020 7392 2919, email the team or visit the website.
Beech Street traffic scheme
The City of London is currently consulting on the Beech Street Zero emissions scheme. The Beech Street traffic scheme has been piloted since Match 2019. 
The consultation survey is open until at least 27 January 2021. Objections or statements of support for the experimental traffic order can be made throughout the public consultation period.
The survey results will help inform the decision on whether to make the scheme permanent, make amendments or remove the scheme.
Please use this link to access the consultation: consultation(external link).
Healthwatch City of London will be responding to the consultation as we are aware of issues regarding community nursing and delivery of medication. We are also aware that shielding residents and those who are not very mobile have had difficulties  with access to  deliveries and taxis to go  to hospital appointments.  Please do let us know if the scheme has impacted either negatively or positively on your health or ability to access services.
Listening to City Carers event
Join our Trustees Lynne Strother and Steve Stevenson at HWCoL's event  next Thursday 28th January  at 3pm, when we will be holding the next Listening to City Carers events. The event will be held over Zoom; joining details are below:
https://zoom.us/j/91696336012?pwd=aUJHYzc1SGZsZVJ2eHRYMFdBNDhHUT09
Meeting ID: 916 9633 6012
Passcode: 159833
If you prefer to join by telephone. Dial 0330 088 5830 United Kingdom
The Meeting is ID: 916 9633 6012
Passcode: 159833
Shoreditch Park and City Primary Care Network Consultation-Completing the Survey.
Healthwatch City of London and Healthwatch Hackney are carrying out  a consultation in partnership with the Shoreditch Park and City Primary Care Network (PCN). The Shoreditch Park and City PCN is the collective name for our local  GP practices who have come together to focus on local patient care which includes the Neaman Practice.
By taking part in this survey, you will help us understand what is working well and what is not, where you would like like to see improvement in local health care delivery by the PCN and what services you would like to see develop in the future. The PCN welcomes your thoughts and there are more opportunities to be involved, all the details are at the end of the survey.
Please be fully reassured that your views are confidential and will in no way ever affect the care you receive by your GP surgery.
Please use this link to access the survey:
https://www.surveymonkey.co.uk/r/ShoreditchandCity
Latest Covid-19 statistics for the City of London
The joint City and Hackney Public Health Intelligence Team produce regular statistics on Covid-19 levels in the City. The site below breaks down the cases in the City, and in Hackney, and by Ward, this enables residents to see the wider picture of infection rates. The site is updated regularly. https://hackney.gov.uk/coronavirus-data
Keep up to date with the latest advice.
HWCoL are constantly updating our advice and information pages. Please make sure you visit them regularly.
Get in touch with Healthwatch City of London
Visit our website for more information, news and events, have your say about your care, and spread the word about Healthwatch City of London.
www.healthwatchcityoflondon.org.uk email: info@healthwatchcityoflondon.org.uk
Tel: 020 3745 9563 Facebook: facebook.com/CoLHealthwatch Twitter: @HealthwatchCoL
Portsoken Health and Community Centre, 14-16 Little Somerset Street, London E1 8AH