Healthwatch Annual Report
Forty-two people attended our annual general meeting at the Livery Hall, Guildhall on 4 October 2018.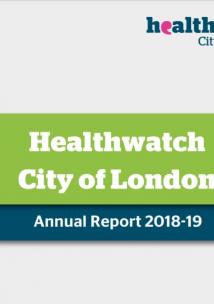 We asked people what they wanted from their Healthwatch. People fed back on a range of local issues including services for rough sleepers and support to improve the health and wellbeing of low paid City workers.
Highlights
The Annual Report outlines our work during the 2018/19 period, informed by the priorities identified by local people. Highlights of the report include:
The findings from outreach activities and partnership working with other organisations to gather patient and service user experiences
The key stakeholders, bodies and consultations where Healthwatch City of London represented the views of patients and the public.
The findings and impact of an Enter and View at the Neaman Practice.
You can download the report below.