Healthwatch City of London August 2022 Newsletter
This month's newsletter includes our Annual Report 'Championing what matters to you', launches Maternity Services Survey by all Healthwatch across North East London and news of our annual general meeting.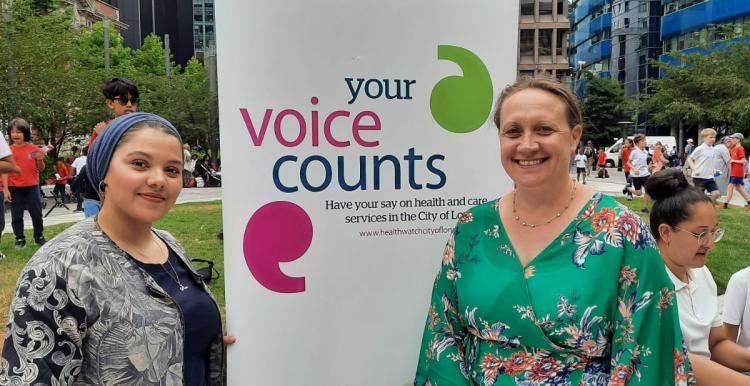 Chat from the Chair
Welcome to our August newsletter. I hope you all survived the heatwave last week, although it was nice to have some warmer weather it was a little too hot for me! As the weather is set to remain warm remember to keep hydrated and protect yourself from the sun. Look out for others too especially those who are more vulnerable to hot weather. That said it's a good opportunity to get some vital vitamin D too.
This month we have published our annual report 'Championing what matters to you,' it goes through our highlights from the past year including the brilliant work from our volunteers, our projects on Neighbourhoods and your requirements from our Primary Care Network, the information webinars we have held and how we have helped champion your voice with NHS and social care providers. You can see below how to read the report.
We were delighted to take part in the Aldgate festival last week, it was great to meet so many people and hear how we can help you access the services you need. If you picked up one of our application forms please do consider joining us as a volunteer
You'll also see below details of our Annual General Meeting which we are finally able to hold in person at the Portsoken Community Centre in October. It will be a fantastic opportunity for you hear more about our work, from some of the leaders from the new Integrated Care System, which we told you about last month, to enjoy some refreshments and meet you face to face!
Healthwatch across North East London have now launched a Maternity Services survey, the results of which will ensure people are offered the best experience when using maternity services.  Please do fill it in so that your voice can be heard. Further details are below.
I wish you all a happy and healthy summer.
Gail
Primary Care Network update
Improving access to service for patients registered with a City or Shoreditch GP surgery.
From 1st October 2022 Primary Care Networks are required to deliver 60 minutes per 1000 patients of enhanced access which is Monday to Friday 6.30-8pm and Saturday 9-5pm.
There are two current services running an enhanced service one which delivers 30 minutes per thousand patients and service run by the City and Hackney confederation which delivers 30 minutes per thousand patients 
Nationally it's been decided to amalgamate the two services to create a single offer for patients.
The PCN have been given limited time to pull together plans, however they are building on information they already have whilst developing their proposals. Hopefully, you all received and responded to their recent survey sent out via the GP practices and our social media. The results of this survey should be with them this week and we hope to feed back to you soon. If you didn't get the survey, then let us know  
The PCN team also undertook a meeting of patients though the Patient Participation Group. Please do let us know if you didn't get an invite and if you did go, tell us about your thoughts on their plans.
What will be different?
The current services that are two separate ones are delivered in the main by GPs and whilst this has its advantages considering the population health needs and the access residents would like there is an opportunity to widen access to other services e.g., phlebotomy and physiotherapy and routine check-ups.
Healthwatch input
We met with the team pulling together the plans and fed back some of the issues they have raised with us, about access and keeping us up to date about services and when they are available.
We pressed on making sure that the new service is well advertised and that all practices update their leaflets, websites, and communications channels to set out when the enhanced access service is available and what patients have access to. We are assured that the team will undertake a large communications campaign to proactively reach people.
Having the service local is important to City residents and the current plan is for the Monday – Friday provision to be rotated around each practice but the Neaman practice will have an evening service and Saturdays will rotate between the Hoxton Surgery and the Neaman Practice.
Tell us what you think about these plans on info@healthwatchcityoflondon.org.uk
Patient Participation Groups: Get involved
Did you know you could be a member of the patient Participation Group? All GP practices are required to have a Patient Participation Group (PPG) The PPG is a group of patients, carers and GP practice staff and partners who meet to discuss practice issues and patient experience to improve the service. The purpose of the Patient Participation Group (PPG) is to ensure that patients and carers are involved in decisions about the range, shape and quality of services provided by their Practice. The aim is to promote the proactive and innovative involvement of patients and carers through the use of effective PPGs and to act on a range of sources of patient and carer feedback in order to improve the services delivered by the Practice.
You must register with the Practice to become part of the Group, you can do so for the Neaman Practice here https://www.theneamanpractice.nhs.uk/patient-participation-group and at the Goodman's Field Medical Practice here https://eastlondongp.co.uk/patient-reference-group/
We attend the PPG at the Neaman Practice, the next meeting being on Monday 12th September 2:30pm – 3:30pm.
The Goodman's Field Medical Practice held their PPG last week, unfortunately we were not notified in time to attend. We have written to the Practice Manager to express our concerns about the lack of advertising of the group and have requested that future dates are publicised on their website to allow patient representation.
Have your say on developing Community Diagnostic Centres
The NHS in north east London is asking for feedback from local people and stakeholders on their plans for Community Diagnostic Centres.
Health and care partners have been working together to develop the proposals that would see freestanding, digitally connected, multi-diagnostic centres in north east London. The aim is to increase capacity where it is most needed, for a range of key tests; to improve patient access, experience, and health outcomes; whilst reducing health inequalities and increasing efficiency – for example reducing pressure on hospitals.
The current proposals
To expand their two most developed sites at Mile End Hospital and Barking Community Hospital
Look at the costs, benefits, and possibilities of developing other NHS sites in the next few years. They are looking in particular at King George Hospital in Ilford and/or St George's Health and Wellbeing Hub in Havering, a suitable site in the west of the area and the Whipps Cross Hospital site
Consider the development of smaller centres in shopping centres – for example Canary Wharf, Westfield Stratford and Liberty Romford that would focus on a smaller range of tests either as temporary centres to clear the backlog or longer term, perhaps instead of some of the NHS sites detailed above
Change the system so that hospital consultants spend their time with people who have the most complex conditions, and GPs and their patients have greater ability to book tests and look at test results.
Find out more by reading the consultation document and have your say by filling in the online survey by 13 September 2022
HWCoL have already suggested that we have one here in the City that could serve both those who live and work here. What do you think?
Women's Health Strategy for England
Following consultation earlier this year, the Government has published a Women's Health Strategy for England. It's a ten-year plan and responds to many of the issues raised in the consultation as well as recognising some longstanding issues.
While women in the UK on average live longer than men, women spend a significantly greater proportion of their lives in ill health and disability when compared with men. And while women make up 51% of the population, historically the health and care system has been designed by men for men.
This strategy sets out the Government's 6-point long-term plan for transformational change:
Ensuring women's voices are heard – tackling taboos and stigmas, ensuring women are listened to by healthcare professionals, and increasing representation of women at all levels of the health and care system.
Improving access to services – ensuring women can access services that meet their reproductive health needs across their lives, and prioritising services for women's conditions such as endometriosis. Ensuring conditions that affect both men and women, such as autism or dementia, consider women's needs by default, and being clear on how conditions affect men and women differently.
Addressing disparities in outcomes among women – ensuring that a woman's age, ethnicity, sexuality, disability or where she is from does not impact upon her ability to access services, or the treatment she receives.
Better information and education – enabling women and wider society to easily equip themselves with accurate information about women's health, and healthcare professionals to have the initial and ongoing training they need to treat their patients knowledgably and empathetically.
Greater understanding of how women's health affects their experience in the workplace – normalising conversations on taboo topics, such as periods and the menopause, to ensure women can remain productive and be supported in the workplace and highlighting the many examples of good practice by employers.
Supporting more research, improving the evidence base and spearheading the drive for better data – addressing the lack of research into women's health conditions, improving the representation of women of all demographics in research, and plugging the data gap and ensuring existing data is broken down by sex.
Let us know your thoughts by emailing us at info@healthwatchcityoflondon.org.uk
Maternity Services in North East London – Survey
Your local Healthwatch in North East London wants to ensure people are offered the best experience when using maternity services, which is why we are conducting this survey.
East London has the highest birth rate in the UK. Our health and care services must fully support this growth and continue to ensure the best possible outcomes for mothers and babies. In particular, we are looking to understand the experiences of people from minority or marginalised groups when accessing and experiencing maternity services.
Please complete the survey here
Central London Bus Service Review
Transport for London have extended the consultation period on their Central London Bus Service review.
Our Associate Board members have identified a few proposed changes to routes that will affect access to some NHS services. In particular the number 56. According to the proposals the 56 bus would no longer terminate at Bart's Hospital. It would instead bypass the hospital and terminate at Blackfriars as it's replacing the 4 bus, which is being discontinued in our area.
The 56 bus only stops near the hospital at Little Britain on its return journey. This means anyone with mobility or other health issues travelling south, e.g., from the Golden Lane Estate and the Barbican to the hospital will lose a vital link.
Healthwatch City of London intend to formally respond to the proposals, but you can also do so via their online survey.
https://haveyoursay.tfl.gov.uk/busreview/survey_tools/busreview-survey
Please note that the survey closes on 7th August.
*SAVE THE DATE*
We are very excited to announce that we will be holding our Annual Public Meeting on Tuesday 4th October at the Portsoken Community Centre. This will be the first chance to meet you face to face   for a long while.
We are working on the agenda now, so watch this space, but we'll be having guest speakers from the new Integrated Care Board and the focus of the day will be 'Patient Involvement, making sure your voice is heard in the provision of Health and Social Care services'
 We look forward to welcoming you to our new home and after the meeting spending a bit of time talking to you about what matters to you. Refreshments will be served
To register your interest in attending please email us at info@healthwatchcityoflondon.org.uk and look out for further details in future newsletter and the events section of our website.
All over-50s to be offered Covid-19 booster and flu jab this autumn
Everyone aged 50 and over will be among those offered a Covid-19 booster and a flu jab this autumn under plans to increase protection against respiratory viruses ahead of winter.
Who will get Covid-19 booster vaccines?
On Covid-19 boosters, the Joint Committee on Vaccination and Immunisation (JCVI) has now published its final recommendations for this autumn's programme.
Under the advice, those eligible for a further dose will be:
• Residents in a care home for older adults and staff working in care homes for older adults
• Frontline health and social care workers
• All adults aged 50 and over
• Those aged 5 to 49 years in a clinical risk group, including pregnant women
• Those aged 5 to 49 years who are household contacts of people with immunosuppression
• Those aged 16 to 49 years who are carers
All eligible groups are encouraged to take up the vaccine when it is offered, even if they have had a spring booster, to give themselves the best possible protection against Covid-19 this winter.
Who will get flu vaccines?
In addition, the Department of Health and Social Care will be offering the free flu vaccine to additional groups. These groups will only be eligible once the most vulnerable, including previously announced pre-school and primary school children, those aged 65 years and over and those in clinical risk groups, have been offered the jab.
The additional groups set to be offered the free flu vaccine in England will be:
• All adults aged 50 to 64 years
• Secondary school children in years 7, 8 and 9, who will be offered the vaccine in order of school year (starting with the youngest first)
The NHS will announce in due course when and how eligible groups will be able to book an appointment for their Covid-19 autumn booster and free flu jab.
People in these groups are asked not to come forward until further information is announced.
New Guide to Care Assessments
City Advice has published a new Guide to Care Assessments. The guidance covers both the Carer's assessment and the Carers needs assessment.
You can view the guide here https://www.toynbeehall.org.uk/wp-content/uploads/2022/07/A-Guide-to-Care-Assessments.pdf There are also other useful guides on their website on understanding debt and benefits for older people.
https://www.toynbeehall.org.uk/cityadvice/helpguides/
Keep up to date with the latest advice
HWCoL are constantly updating our advice and information pages. Please make sure you visit them regularly. https://www.healthwatchcityoflondon.org.uk/advice-and-information
Get in touch with us
Visit our website for more information, news, and events, have your say about your care, and spread the word about Healthwatch City of London. 
www.healthwatchcityoflondon.org.uk email: info@healthwatchcityoflondon.org.uk Tel: 020 3745 9563 Facebook: facebook.com/CoLHealthwatch Twitter: @HealthwatchCoL
Portsoken Health and Community Centre, 20 Little Somerset Street, London E1 8AH