Healthwatch City of London May 2022 Newsletter
Join us for our public meeting on 13th May plus a round up of the latest news from across the City.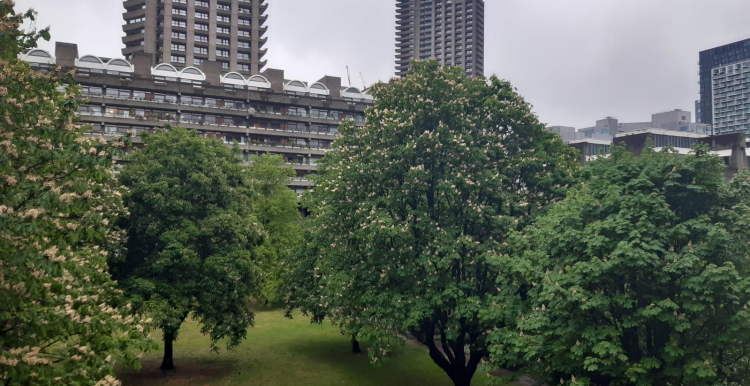 Chat from our Chair
We are now entering a post-pandemic world which, for many, will feel very different to the pre- pandemic world.  We at Healthwatch City of London are shifting our focus onto what that means for you as users of services. How long are you waiting for appointments, diagnostic tests and treatments? How easy is it to get a face-to-face appointment or meeting? How easy is to access care or contact services that enable you to live your life as independently or as supported as you need to be.
To help us make sure services are responsive to your needs we need you to help us by sharing your experiences with us.  Over the coming weeks we will be asking you to let us know what it's like to be service user and how we can support you and those who deliver care or services to make the 'new normal' as 'near normal' as possible. 
A post Covid world for many doesn't feel comfortable and we are conscious that there are many vulnerable and anxious people in our communities, so we will continue to bring you the latest up to date news on Covid 19. 
We are working on our Business Plan for 2022/2023 and will share this with you in the very near future, where we will be building on our seven local objectives which we hope to test out a with you in some small focus groups.
In addition, we will shortly be launching our latest Annual Survey giving you the opportunity to share your views on what matters to you in the delivery of health and social care in the City.
Do join us at our next Public Board meeting as Dr Chor from the Neaman Practice will be joining us, on 13 May.
Our new General Manager
Finally, I am delighted to tell you that Heather Ridge recently joined us at Healthwatch City of London as our new General Manager.
Heather lived in the City for 15 years, trained as a lawyer and has a background which includes NHS risk management and insurance regulation.
She is looking forward to helping lead and support the Healthwatch team to continue building on the progress already made in encouraging GP services to deliver good care and ensuring health services are responsive to the requirements of City residents, students and workers.
Dr Chor to join us for our Healthwatch City of London Public Board Meeting
You are warmly invited to our next meeting in public on Friday 13th May between 2pm -4pm.
The meeting will be a great opportunity for us all to hear from Dr Chor from the Neaman Practice, who will join to update us on the action plan put in place for improvements to patient experience at the Practice. Dr Chor will also give an update on how the practice is working with St Bartholomew's Hospital to make cardiology tests more accessible.
We'll also be joined by Abimbola Musa, the Health Inequalities Lead from the Shoreditch Park and City Primary Care Network, who will talk about the work being carried out to address Health Inequalities and progress in implementing the recommendations in our resident engagement report.
Join us via zoom:
https://us06web.zoom.us/j/86846982389?pwd=Y2NkQmhuemRlak5oZnRna3pMRWZMZz09
Meeting ID: 868 4698 2389
Passcode: 524609
Waiting times and accessing your care
As a result of the pandemic waiting times across all healthcare provision has increased. We monitor waiting times but would like to hear from you if you have experienced a lengthy wait for your care. Have you any questions about accessing services or are you looking for more information about how services are working, please do get in touch. Email us at info@healthwatchcityoflondon.org.uk
Getting urgent care faster
If you are feeling unwell and need urgent care there are a number of options for you to consider. It is important that you visit the right service for your needs.
If you feel unwell or have a minor injury, your local pharmacy can offer advice and some medicines. This can help you treat your condition yourself at home. Pharmacists can also help you see the right person, if you need to see someone else.
If you have a more serious illness, you should visit your GP practice website or NHS 111 online for advice. If you cannot access the internet, call 111 or your GP practice directly.
A 999 call should only be used for life-threatening emergencies or serious injuries.
Visit here for information on how to be seen quickly in the best way for you northeastlondonccg.nhs.uk/urgentcare
Your Care Your Way
Healthwatch England have launched their 'Your Care Your Way' campaign to find out how well health and care services are providing clear, understandable information. The campaign is currently focusing on those not covered by the existing accessible information standard such as people with dyslexia. You can learn more about the campaign on the Healthwatch England website here.
Get urgent help with your mental health
If you need urgent help because you are worried that you might harm yourself or someone else, you can the City and Hackney crisis line for immediate support on 0800 073 0006. The number is available 24/7 for adults, children and young people.
If you want to discuss your mental health concerns you can always speak to your GP, who can provide you with advice and direct you to the best support for you.
Alternatively, if you are stressed, worried, or feeling down, you can access our local adult mental health services, called 'Talk Changes' in the City of London, without having to contact your doctor.
For more information about mental health help provided in the City please visit the local NHS website Mental health – NHS North East London CCG
New OCEAN service to support maternal mental health
The OCEAN service – offering compassionate and emotional support for those living through birth trauma and loss – is a new maternal mental health service run by East London NHS Foundation Trust, and available for people living in Hackney, City of London, Newham and Tower Hamlets.
You can read more about what the service offers, details of the therapeutic programme, how people can be referred, and contact details here. The OCEAN team will be hosting an introduction webinar from 12-1pm on 5 May, during Maternal Mental Health Week, so you can find out more about the service and join the Q&A. You can register here.
Guidance on suicide intervention
If someone you know is feeling desperate, help is always available. If you see someone struggling, feeling lost or alone please go and talk to them and encourage them to call  116 123 to talk to Samaritans which is available 24 hours a day, or email:jo@samaritans.org for a reply within 24 hours. The Samaritans provide the 24 hour helpline to anyone who wants to talk without being judged or being told what to do.
Or if you/they prefer, Text "SHOUT" to 85258 to contact the Shout Crisis Text Line, or text "YM" if they're under 19
For more details, please see the leaflet attached below
COVID 19 vaccine availability
Vaccination is the best protection we have against Covid-19 (including the Omicron variant), serious illness and hospitalisation. There is comprehensive information on more than 100 vaccination sites in north east London, guidance, and answers to questions about the vaccine on this website. Or please see below a map of available vaccination centres.
Everyone aged 5 and over can get a 1st and 2nd dose of the COVID-19 vaccine.
People aged 16 and over, and some children aged 12 to 15, can also get a booster dose.
People aged 12 and over who had a severely weakened immune system when they had their first 2 doses, will be offered a 3rd dose and a booster (4th dose). Find out more. 
Vaccine appointments can be booked for 5-11 years old by using the online NHS booking system
City Carers Community Share and Learn
Monday 2nd, 16th & 30th May 11am or 8pm (45-60 minutes) via Zoom or Telephone
Virtual Drop in, listen, ask questions and feel free to share your unpaid caring knowledge. Are you helping to look after a family member, friend or neighbour? Open to anyone looking after someone in the City of London or city resident caring from a distance. Run voluntarily by City residents going through the same as you. For the zoom link or telephone number to call email: CityCarersCommunity@gmail.com
Latest Covid-19 statistics for the City of London
The joint City and Hackney Public Health Intelligence Team produce regular statistics on Covid-19 levels and vaccination uptake data in the City. The site is updated regularly and accessible at https://hackney.gov.uk/coronavirus-data   
Keep up to date with the latest advice
HWCoL are constantly updating our advice and information pages. Please make sure you visit them regularly. https://www.healthwatchcityoflondon.org.uk/advice-and-information
Contact Healthwatch City of London
Visit our website for more information, news, and events, have your say about your care, and spread the word about Healthwatch City of London. www.healthwatchcityoflondon.org.uk email: info@healthwatchcityoflondon.org.uk Tel: 020 3745 9563 Facebook: facebook.com/CoLHealthwatch Twitter: @HealthwatchCoL
Portsoken Health and Community Centre, 20 Little Somerset Street, London E1 8AH