Healthwatch City of London February Newsletter
This month's newsletter gives the latest information on Health and Social Care across the City of London including an update on patient referrals to Barts Health NHS Trust, Community Diagnostic Hubs and our Mental Health and Wellbeing focus group.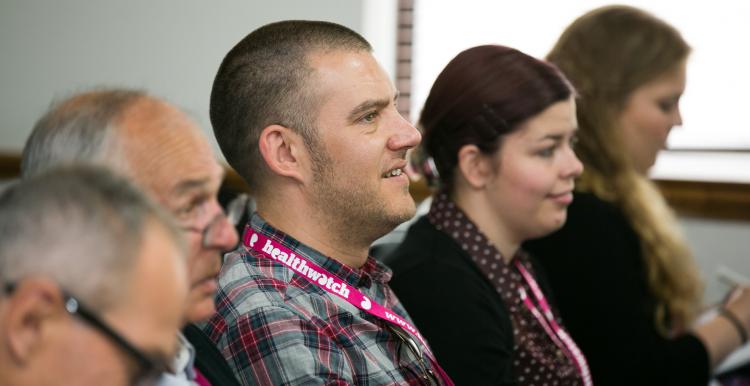 Chat from the Chair
We are back in the City!  Our new office is at 20 Little Somerset Street in Aldgate. It is the new building behind the bus station at Aldgate.   We are grateful to the City of London Corporation for securing us a space in the building.  It puts our team back in the City closer to you, with access to meeting rooms where we can meet you face to face and hear about your experiences of the services you receive.  Our new home will also enable us to run some face to face events too. We will make sure that we are seen out and about all over the City, so look out for us at Golden Lane and the City Libraries.  We are looking forward to welcoming you.   
I personally was sad to hear Alwen Williams is to step down as Group Chief Executive at Barts Health NHS Trust.  I have worked with Alwen over the years and have experienced first-hand the pleasure of working with such a talented, professional and caring person.  Alwen has done a fantastic job over the past 7 years, and we are very fortunate to have had Alwen at the helm of our much-loved local hospitals.  I know she leaves the Trust in much more secure position so that we may all benefit from the access to some of the most talented staff and treatments in the country.
 You will recall we wrote on your behalf to the North East London Clinical Commissioning Group to find out why we had to be referred to the Homerton for non-acute care and travel long distances when Barts Health is just up the road; we have had a response and it transpires the Neaman Practice can now refer to Barts Health.  We'll be asking you to let us know if this is still a problem. More details below.
The UK government has now lifted all Covid restrictions in England, as it announces its plan for Living with Covid, we encourage you to still remain vigilant and to get vaccinated. Although face masks are no longer mandatory the NHS are still encouraging patients to continue to wear facemasks, wash their hands regularly and take a lateral flow test before attending appointments.  However, guidance on masks wearing, visiting patients in hospital, or accompanying friends and relatives to outpatient appointments will vary from care setting to care setting, so you should follow local rules. NHS staff who develop Covid will be required to follow different rules form the general public to make sure our most vulnerable communities are kept safe. 
I look forward to seeing you all soon at either one of our webinars or at a Public Board meeting.
Stay safe
Gail
Update to Covid restrictions
This week, the Prime Minister announced that all current COVID-19 restrictions will be removed as the government published its plan on living with COVID-19.
The plan sets out the below changes: 
From 24 February:
People are not legally required to self-isolate if they test positive for COVID-19. Adults and children who test positive are advised to stay at home and avoid contact with other people for at least 5 full days and then continue to follow the guidance until they have received 2 negative test results on consecutive days. 
Routine contact tracing has ended. People will not have to take daily tests and aren't legally required to self-isolate following contact with someone who has tested positive for COVID-19. Guidance sets out the precautions that those who live in the same household as someone who has COVID-19, or who have stayed overnight in the same household, are advised to take to reduce risk to other people.
The Test and Trace Support Payment Scheme has closed. Those who were told to self-isolate before 24 February can still make a claim up to 6 April.
Creation of Community Diagnostic Hubs (CDH)
Community Diagnostic Hubs are a new initiative of the NHS aimed at building capacity for more diagnostic testing (for example MRI, CT Scanning) locally, improving patient access to these tests and relieving pressures on hospitals. NHS England is funding a programme of CDH development across London, with a mix of short term "early adopter" schemes to stretch and adapt existing capacity as well as longer term funding to establish new delivery sites.
The objective of the programme is to:
Improve population health
Increase diagnostic capacity
Improve productivity and efficiency and support integration of primary, secondary and community care
Reduce inequalities
Improve patient experience
The two early adopter sites in North East London are Mile End Hospital and Barking Riverside. Other potential sites identified are St Leonards Hospital and Canary Wharf (due to the size of the working population)
HWCoL have asked the City of London Health and Wellbeing Board to investigate if there is capacity in the City for provision of a hub for City workers and residents.
Let us know your thoughts on this by emailing us at info@healthwatchcityoflondon.org.uk
Healthwatch City of London Webinar series
Hopefully, some of you have joined our webinars which brought important information into your home as well as covering areas of general interest. Recently Dr David Collier from the William Harvey Institute at St Bartholomew's Hospital gave a fascinating insight into the research carried out by his team into treatments for people seriously ill with Covid 19 during the early days of the pandemic. 
More recently' Joanna Lyndon-Cohen from the COVID Rehabilitation Service (CoRe) at Homerton Hospital shared with us insights into the treatment and management of long Covid and how to access help for this.
We aim to bring something different; interesting and informative by sharing what's happening locally in health and social care and the impact on the services you access or need.
We are planning our annual programme of events and ideas include:  
Access to dentistry: exploring your experiences, especially for children
The creation of Community Diagnostic Hubs: what are they and what will they mean for residents 
Health inequalities: how are they being addressed  
Homelessness: the response of City of London Corporation
We will soon be sending out a survey for you to let us know what you'd like to be included in our series. Watch this space for further information.
Referral pathways into secondary care for City residents
As highlighted above many of you have asked us to provide clarity on referrals to local hospitals from the Neaman Practice.  We know that patients have been informed by the Practice that the North East London Clinical Commissioning Group (NELCCG) had instructed them not to refer patients directly to Barts Health. As a result of your feedback, we contacted the CCG requesting clarity about patients being told they can only be referred to Homerton Hospital for non-acute care and the management of some long term health conditions.  We are pleased to report that you are now able to request treatment at Barts Health, however routine patients may be waiting to be treated at Barts Health for a longer period and therefore the Homerton or other hospitals may be a quicker appointment for patients as waiting times for treatment are shorter.
Quarterly meeting with the Neaman Practice
We held our quarterly meeting with the Neaman Practice last week. The meeting attended by both Dr Chor and Dr Ugwu facilitated a good discussion and resolution to some of the issues you have raised with us over the past few months.
The telephone system: The practice is now using 4G system. Their target is for calls to be answered within 5 minutes. A mystery shop conducted by surgery staff found the average waiting time was 4.9 minutes. The practice continues to monitor call activity. The busy time is 8-11am when four people are now available to take calls. After 11am, there are two people to answer phones.
Referrals to Barts and Homerton Hospital: as detailed above.
Home vaccinations:  We were assured that all patients registered for home vaccinations have now received them. Let us know if that's not the case.
We hope to have Dr Chor at our next Public Board meeting for an update on progress on the action plan for improved patient experience and the work with the cardiologists at St Bartholomew's Hospital on accessing non –invasive cardiology tests. If you have any issues you'd like us to raise with the Practice or have any questions for Dr Chor please let us know by emailing info@healthwatchcityoflondon.org.uk
Talking Changes Things
A new campaign has been launched to get young adults aged 18-25 more comfortable accessing mental health support if they need it. 
Talk Changes is a confidential mental health support service in City and Hackney, 100% of young adults who have used the service would recommend it to others. 
Having trouble sleeping, feeling lonely or disconnected, lacking motivation to do the things you like to do, feeling anxious, stressed or struggling with body image and self-esteem are just some of the issues this service can help young adults overcome. 
There are a range of appointment styles allowing people to choose how they want to access support, whether that be in-person therapy, sessions online or over the phone. 
If you are interested/ or know someone who may be interested in using the service, please contact Talk Changes here: Talkchanges.org.uk
Mental Health and Wellbeing Focus Group
We will be holding our first Mental Health and Wellbeing Focus Group of 2022 on Thursday 17th March 2pm till 3pm.
The focus of the group will be young people and access to services. We hope to have updates from MIND and ELFT on their service provision.
To join the meeting, please join via Zoom
https://us06web.zoom.us/j/82016861555?pwd=QWxDQzVSK3NYK2tHZ1FxSnhFeWQyQT09
Meeting ID: 820 1686 1555
Passcode: 704558
Latest Covid-19 statistics for the City of London
The joint City and Hackney Public Health Intelligence Team produce regular statistics on Covid-19 levels and vaccination uptake data in the City. The site is updated regularly and accessible at https://hackney.gov.uk/coronavirus-data   
Keep up to date with the latest advice
HWCoL are constantly updating our advice and information pages. Please make sure you visit them regularly.  https://www.healthwatchcityoflondon.org.uk/advice-and-information
Get in touch with Healthwatch City of London
Visit our website for more information, news and events, have your say about your care, and spread the word about Healthwatch City of London. www.healthwatchcityoflondon.org.uk email: info@healthwatchcityoflondon.org.uk  Tel: 020 3745 9563 Facebook: facebook.com/CoLHealthwatch Twitter: @HealthwatchCoL
Portsoken Health and Community Centre, 20 Little Somerset Street, London E1 8AH