Healthwatch City of London Newsletter 15th January 2021
Healthwatch City of London's newsletter this week brings you the latest advice on the Coronavirus vaccinations.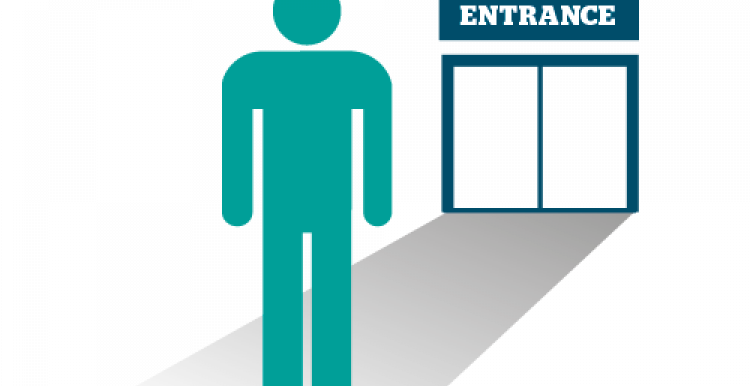 Dear Reader,
At Healthwatch City of London we know how worried you all are about the impact of the pandemic. This affects every area of our lives and many of you will be worried about contracting the virus, about  loved ones  but, also about access to routine and urgent healthcare and not to forget those of you who require support from social care and community nurses. Increasingly we are also seeing an impact on our mental health. In this Newsletter we are providing some links to help you get the support you need.
The Government is asking us all to stay at home where possible to slow down the transmission and enable the NHS to cope with the surge in cases.  Our commitment is to  bring you the latest guidance and information on Health and Social Care service provision across the City.  In this Newsletter we provide information on booking a vaccination, support available during Lockdown and a summary of the National Lockdown rules.
The COVID-19 vaccination programme for those aged 80 or over continues. City and Hackney CCG have opened a new COVID-19 Vaccination Centre in Bocking Street, Hackney. The vaccination centre at Elsdale Street Practice is due to close with the opening of Bocking Street. A further centre is due to open later this month at the John Scott Health Centre. We will keep you up to date.
Despite all the pressure the NHS is under, our GP's and hospitals are still open. If you need medical advice please do not hesitate to contact your GP. Advice is also available from NHS 111.
On a happier note , Healthwatch City of London would like to take this opportunity to congratulate Alwen Williams, Chief Executive, Barts Health NHS Trust on being awarded a DBE in the New Year Honours list.  Alwen has made a fantastic contribution to health services in East London and this is a well deserved honour.
Finally, please let us know your experience of the vaccination programme, good or bad, and we will feed it back.
Gail Beer , Chair  Healthwatch City of London
COVID 19 vaccination booking
City and Hackney Clinical Commissioning Group have received their next batch of Pfizer/BioNTech vaccine. The Clinical Commissioning Group plan to vaccinate about 1100 people this week; patients aged 80 and over and GP practice staff.
There are  5,300 aged 80+ residents in the City and Hackney and residents eligible  for the vaccine of which around 1,000 have already received theirs. Eligible residents  will be contacted via a letter or text from their GP.
Booking on line
If you receive a text it will include a click through option for booking an appointment on-line. For some of you this will not be an option as your mobile phone is not a smart phone.
You can use your PC or lap top to go on line using the pass code provided in the text message to gain entry to the booking system. For those of you able to book on-line there is currently no option to book patient transport. Patient transport is being arranged through your GP and you will need to contact them to arrange it.
Please note that when booking 'on line,' to complete the process you have to click the save button to ensure your booking is uploaded.
Offered an appointment by letter
If you receive an offer of an appointment by post please follow the booking instructions provided. The letter will have either have been sent by your GP or from NHS England. The letter from NHS England will be for a booking at a National Vaccination Centre in London, this is the Excel Centre. The letter from your GP will be for an appointment at the local vaccination Centre.  
Please note that if you have booked a local appointment and receive a letter from NHS England you do not have to cancel  your local appointment. The advice we have received is you should only cancel a local appointment if you wish to go to the Excel centre.
Can't book online
We have checked with the Clinical Commissioning Group and if you are unable to book an appointment on-line or you require patient transport your GP will be able to arrange an appointment or book patient transport.
Getting my vaccination locally
Vaccinations for those living in City and Hackney will be administered at the new Bocking Street COVID Vaccination Centre. The address is COVID Vaccination Centre, 3A Bocking Street, E8 3RU. Directions can be found  using the Google map link here: 3 Bocking St - Google Maps 
Patients will be administered the vaccine in their allotted time slot only. Following your vaccination, you will be asked to remain at the centre for 15 minutes for clinical observation as a precaution against any reaction to the vaccine.
My GP is in Tower Hamlets?
Patients registered with Tower Hamlets GP's will be contacted via letter, text or telephone call depending upon the surgery you are registered with. The booking system is the same as for City and Hackney GP's. Vaccinations for residents registered at Tower Hamlets GP's are being administered from: 
Newby Place Health and Wellbeing Centre, 21 Newby Place, Poplar, E14 0EY. Directions are available using the Google map link here: 21 Newby Pl - Google Maps
Queen Mary's University, Arts Research Centre, Mile End Road, E14 4NS. Directions are available using the Google map link here: Queen Mary University of London - Google Maps
When will I get the second jab?
Follow up vaccination appointments will be booked up to twelve weeks after your first and this applies to both the Pfizer/BioNTech and OxfordAstraZeneca vaccine. You will be asked to book your follow up appointment when you arrange your first one.
When will I be able to get my jab at my GP surgery or pharmacy?
In City and hackney two community pharmacies have been approved to administer COVID-19 vaccinations. Both pharmacies are located in the Borough of Hackney. Pharmacies will not be administering the Pfizer/BioNTech vaccine. The two pharmacies will be administering the Oxford AstraZeneca vaccine when they receive delivery. As soon as Healthwatch City of London are aware that the pharmacies are able to administer the Oxford AstraZeneca our website will be updated with the information and include directions to the pharmacies. Booking will still be required.
We will keep you up to date with the position for vaccination in GP surgeries when we know more.
Barts Health
This week some of you may have received your vaccination at Barts Health. These were slots that came out at short notice. If further slots become available, we will let you know. In the meantime, look out for emails from the City of London and our Social Media.
Launch of 7 National Vaccination Centres
This week has seen the opening of seven vaccination centres across the country. This is in addition to local vaccination sites led by primary care networks and hospital hubs.
The first seven sites are:
·      Ashton Gate in Bristol (South West)
·      Epsom racecourse in Surrey (South East)
·      Excel Centre in London (London)
·      The Centre for Life (North East and Yorkshire)
·      Etihad Tennis Club in Manchester (North West)
·      Robertson House in Stevenage (East of England)
·      Millennium Point in Birmingham (Midlands)
Letters have been sent to people aged 80 or over who have not yet received a vaccination and live 30 to 45 minutes' drive from one of the seven new sites. The letter explains how you can book a slot – either over the phone or online through the national booking service.  
Caring for Children and Young people during the pandemic
Those planning and delivering our care (the East London Health and Care Partnership) want to make sure that parents and young people are aware that they are still here to support them.  Making the right decision about your child's healthcare needs is difficult at the best of times and even more so right now with COVID-19 changing the way we think about and interact with health services.
Although there have been a number of changes to the provision of children's services you can still get help whatever you are faced with. The following link provides guides to download for: 
parents on what services to use
COVID-19 shielding guidance for children and young people
Easy read guide on which NHS services to use.
As well as links to services for Children and young people across North East London.
  Children and young people | East London Health & Care Partnership (eastlondonhcp.nhs.uk)
Mental Health Care provision
East London NHS foundation Trust, who provide Mental Health services for the City will continue with the following provision of services during lockdown.
Adult Mental Health Services remain open for business. Referrals are still being accepted for all their services and existing service users will still be seen face to face where this is clinically needed.
The Community Teams are contactable as usual. The Donald Winnicott Centre covers the City of London and their phone number is 020 7033 6100.
People who are  already known to these services will be able to contact their Duty Worker in the usual way, if necessary.
The Crisis, Home Treatment and Acute Inpatient Services will be operating as usual.
If someone is in crisis: Call the 24-hr Crisis Line number 0800 0730006
Adult Social Care provision
Adult Social Care will continue to deliver care at the same level of provision as in previous lockdowns.
They have a small team of staff based at the Guildhall five days week.
They continue working with health partners in hospital and community settings to support discharges from hospital, whether back home or into residential care, as required.
As well as undertaking assessments of need they are continuing to work directly with patients, both carers and the cared for, to sign post them to the services they require.
Community Nursing continues to operate for those residents in receipt of the service.
National Lockdown: Stay at home
Below is a summary of what you can and cannot do during the lockdown
Leaving home
You must not leave or be outside of your home except where necessary. You may leave the home to:
shop for basic necessities, for you or a vulnerable person
go to work, or provide voluntary or charitable services, if you cannot reasonably do so from home
exercise with your household (or support bubble) or one other person, and you should not travel outside your local area.
meet your support bubble or childcare bubble when necessary.
seek medical assistance or avoid injury, illness, or risk of harm (including domestic abuse)
attend education or childcare - for those eligible
Education provision
Colleges, primary and secondary schools will remain open only for vulnerable children and the children of Key workers. All other children will learn remotely until February half term. Early years settings remain open.
Higher Education provision will remain online until mid-February for all except future critical worker courses.
The full guidance on the lock down is available using the following link: https://www.gov.uk/guidance/national-lockdown-stay-at-home
Please remember
Hands: wash frequently for at least 20 seconds
Face: where a mask when in many indoor settings, and consider wearing a mask when outside
Space: try to maintain a distance of 2 metres between yourself and other people you meet when out.
Barbican Library services straight to your door
Not able to visit your local library because of the lockdown? Let the library come to you. The City of London Library Home Delivery Service will deliver books and more, once every four weeks, to City of London residents and Carers, who are unable to get to a library by themselves. This could be because of a disability, old age, an inability to carry heavy books, or a temporary injury or ailment or caring role which restricts you to your home. They offer novels, non-fiction, large print, standard print, music, talking books on CD, DVDs as well as eBooks, eAudio and eMagazines. Free delivery and collection are made to your home.
To make use of the service please contact the library by telephoning on 020 7638 0569 or via email to barbicanlib@cityoflondon.gov.uk
City of London library services are only operating from the Barbican currently.
Stay at home programme of events
The national lockdown can make it increasingly difficult to find activities to keep us entertained. The City of London Corporation has a dedicated webpage which lists activities for young and old to participate in, you can access it here Your Stay at Home Programme - City of London
Dentistry during the pandemic survey
We are keen to hear about your experiences of accessing dentistry during this Lockdown. We know that many of you have had problem in the first Lockdown and we need to make sure that does not happen again.  Let us know about your experiences:  Dental Services access during Coronavirus Survey (surveymonkey.co.uk)
Shoreditch Park and City Primary Network Consultation
Healthwatch City of London and Healthwatch Hackney are partnering with the Primary Care Network for the City and Shoreditch on understanding what you think of their services.
A Primary Care Network is a cluster of GP surgeries in a locality collaborating on the provision of health services such as foot care for example.
The first phase of this project is a survey we are asking all residents to complete, please.
By taking part in this survey, you will help the Primary Care Network: 
understand what is working well and what isn't
where you'd like them to focus and improve
what services you would like to see develop in the future
The survey is available on a number of sites including Healthwatch City of London from Monday. Next week residents should receive a flyer promoting the survey which will also include a QR. If any resident require support completing the survey, a telephone number for this is included on the flyer.
The survey is expected to take no more than ten minutes to complete. If you are interested in attending a follow up focus group, please complete the relevant section of the survey.
Fancy working for Healthwatch City of London?
Vacancy for an Administrator: two days per week
Please follow the link to find out more about the job and how to apply: Administrator for Healthwatch City of London | Healthwatch Cityoflondon
Latest COVID-19 data for the City of London
The joint City and Hackney Public Health Intelligence Team produce regular statistics on Covid-19 levels in the City. The site below breaks down the cases in the City, and in Hackney, and by Ward, this enables residents to see the wider picture of infection rates. The site is updated regularly. https://hackney.gov.uk/coronavirus-data
Get in touch with Healthwatch City of London
Visit our website for more information, news, and events, have your say about your care, and spread the word about Healthwatch City of London.
Web: www.healthwatchcityoflondon.org.uk Email: info@healthwatchcityoflondon.org.uk
Tel: 020 3745 9563 Twitter: @HealthwatchCoL Facebook: @CoLHealthwatch
Portsoken Health and Community Centre, 14-16 Little Somerset Street, London E1 8AH