Vaccinations available a Toynbee Hall
Get your Covid-19 vaccine at Toynbee Hall!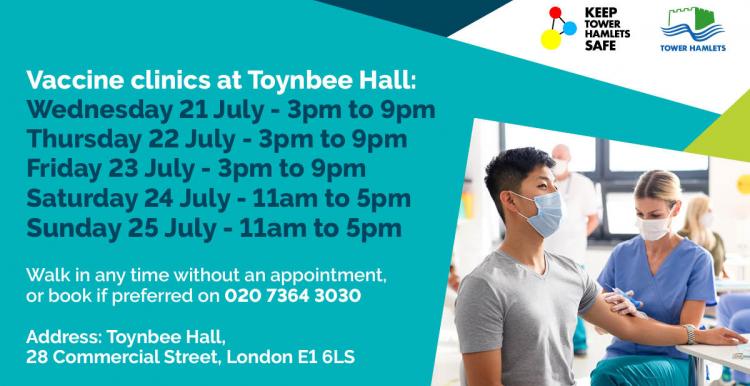 Vaccination clinics at Toynbee Hall
Walk-in without an appointment, or book in advance by scanning the QR code (found in the flyer attached) or calling the council helpline on 020 7364 3030.
First and second Pfizer jabs are available.
If you're coming for your second jab, please make sure it's at least 8 weeks since your first.
Opening times:
Wednesday 21 July – 3pm to 9pm
Thursday 22 July – 3pm to 9pm
Friday 23 July – 3pm to 9pm
Saturday 24 July – 11am to 5pm
Sunday 25 July – 11am to 5pm
Everyone over the age of 18 is now eligible. You don't need I.D, or to be registered with a GP to get your vaccine.
Address: Toynbee Hall,  28 Commercial Street, E1 6LS